In Brief...
Wildfire Credit Union "Shared the Warmth" with Our Communities
In late November of 2016, Wildfire Credit Union embarked on a community campaign called "Share the Warmth" which was designed to enlist our communities in gathering new hats, scarves, mittens, gloves and socks for members of our community in need. Collection boxes were set up in the lobbies of each of the Wildfire branches and through social media and radio, we asked people to donate items. Michelle LeBlanc, marketing and public relations coordinator commented, "The campaign was a huge success collecting well over 1,000 items. Many of the items were handmade which made them even more special."
Wildfire partnered with area agencies throughout the Great Lakes Bay Region to make sure the items got onto the heads, necks, hands and feet of the individuals who needed them the most. With the overwhelming response, the "Share the Warmth" campaign is an annual effort.

Alpena Alcona Area Credit Union Employee Donate Turkeys to The Chosen Ranch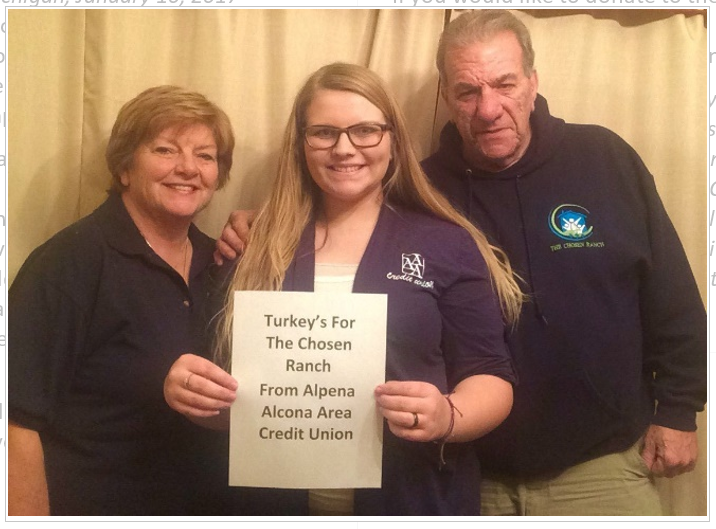 Alpena Alcona Area Credit Union (AAACU) recently donated turkeys to The Chosen Ranch. The donation was made possible by the generosity of AAACU employees.
The Chosen Ranch is a 160-acre, not-for-profit property that was purchased in 2015, that includes a 4-bedroom home, carriage building, horse barn, corral and pasture. The ranch located in Alcona County gives abused, abandoned, neglected and homeless children a permanent home and is also used for summer programs that teach children wilderness survival tactics, leadership skills and emphasizes on positive self-image.
The turkeys donated will help feed the children currently living at the ranch, that is overseen by house parents Joshua and Sara Whitten.
If you would like to donate to the organization you may send funds to The Chosen Ranch P.O. Box 190 Lincoln, MI 48742 or visit their website.

Credit Union ONE Partners with Traverse City Relay For Life
For the fourth year in a row Credit Union ONE has been a sponsor for the Traverse City American Cancer Society Relay for Life. The event held this year on June 10 in Traverse City, will once again have Credit Union ONE member Shelly McAllister as part of the team.
"It's great to participate in this Relay each year, and I appreciate Credit Union ONE being a sponsor for this worthwhile event," said Shelly McAllister.
Traverse City Credit Union ONE branch manager Michelle Kilinski said, "We are glad to sponsor Shelly and to be a part of such a great fundraiser here in the Traverse City community."

TBACU Launches 2017 Box Tops Challenge
TBA Credit Union is pleased to announce its relaunching its Box Tops for Education collection program, the 2017 Box Tops Challenge.
Originally launched in 2016, the Box Tops Challenge is an opportunity to raise money for schools in our five county market area. The school that receives all the Box Tops collected will be chosen by a photo contest held on TBA Credit Union's Facebook page. The Box Tops will be collected at both branches until the end of October. Visit tbacu.com to learn more about this program.
"We're always looking for different ways to live out our mission of serving the community," said Christie Dompierre, marketing director. "We are excited to offer this opportunity again for schools and encourage our members and the community to continue to drop off their Box Tops in the upcoming year."

The Battle Creek Chapter of Credit Unions Donate $1500 to Junior Achievement of Southwest Michigan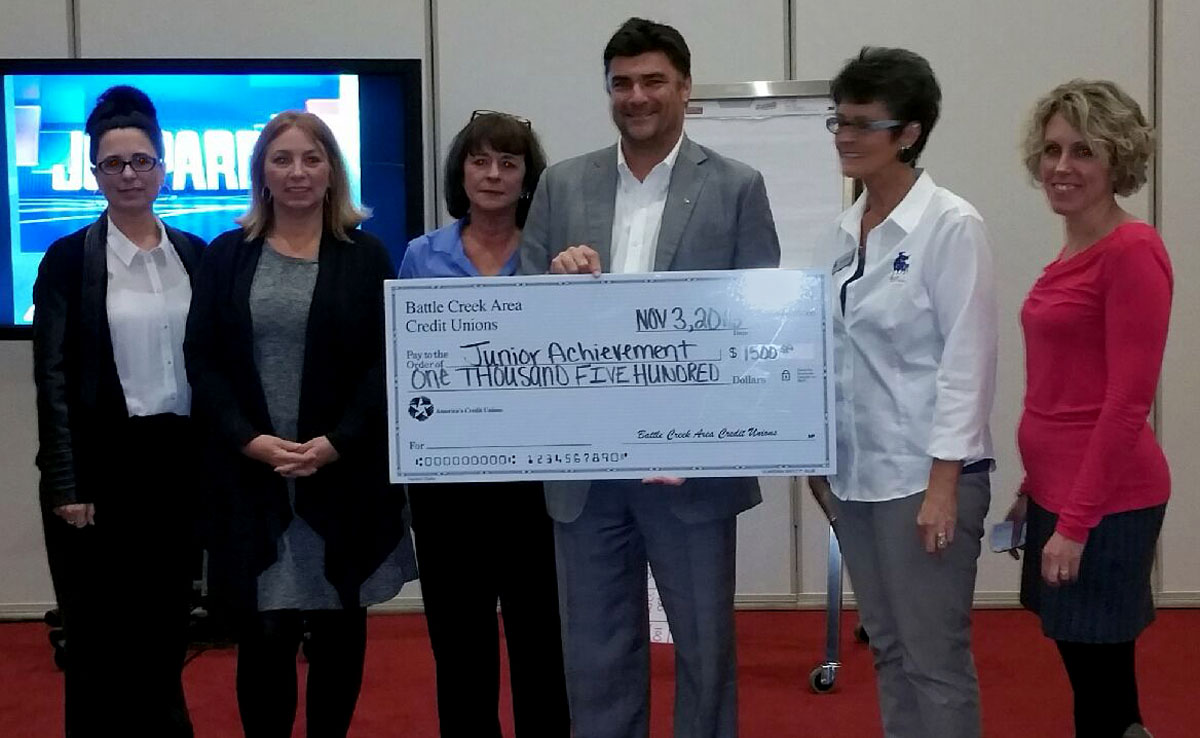 The Battle Creek Chapter of Credit Unions recently hosted an evening event to recognize and honor local non-profit organizations that have made a positive impact in our community. Junior Achievement of Southwest Michigan was one of the organizations honored that evening. They were presented with a donation of $1500 by chapter members to use towards educating students grades K-12 about entrepreneurship, work readiness, and financial literacy through experiential hands-on programs.

"The credit unions of Battle Creek are outstanding partners in helping our local students become successful," said Tom VanderMolen, Junior Achievement of Southwest Michigan's president. "Junior Achievement is grateful for their support."

The Battle Creek Chapter of Credit Unions is pleased they are able to offer grants to organizations to help members in their communities as they have done in previous years, and will continue to do so for years to come.
Go to main navigation