In Brief...
Credit Union Collection Consortium Date Announced
The Credit Union Collection Consortium will hold its next meeting on Wednesday, March 8 from 2—4 p.m. at Genisys Credit Union, located at 2100 Executive Hills Blvd. in Auburn Hills. The speaker will be Genisys' own Jim Reinhart, chief lending officer and Jessica Roshek, vice president of lending. Jim and Jessica will speak on a topic near and dear to most collection departments, the effects of indirect lending on delinquency and how to manage it successfully. Genisys has extensive experience with indirect lending and this is a unique opportunity to benefit from their expertise. No reservations are required and all lending, collection and loss prevention credit union professionals are encouraged to attend. Please contact Peggy Dombrowsi, the consortium's president, at 248.3229.800, ext. 1300 if you have any questions.

MCCU Supports Marshall's Grand St. Park Initiative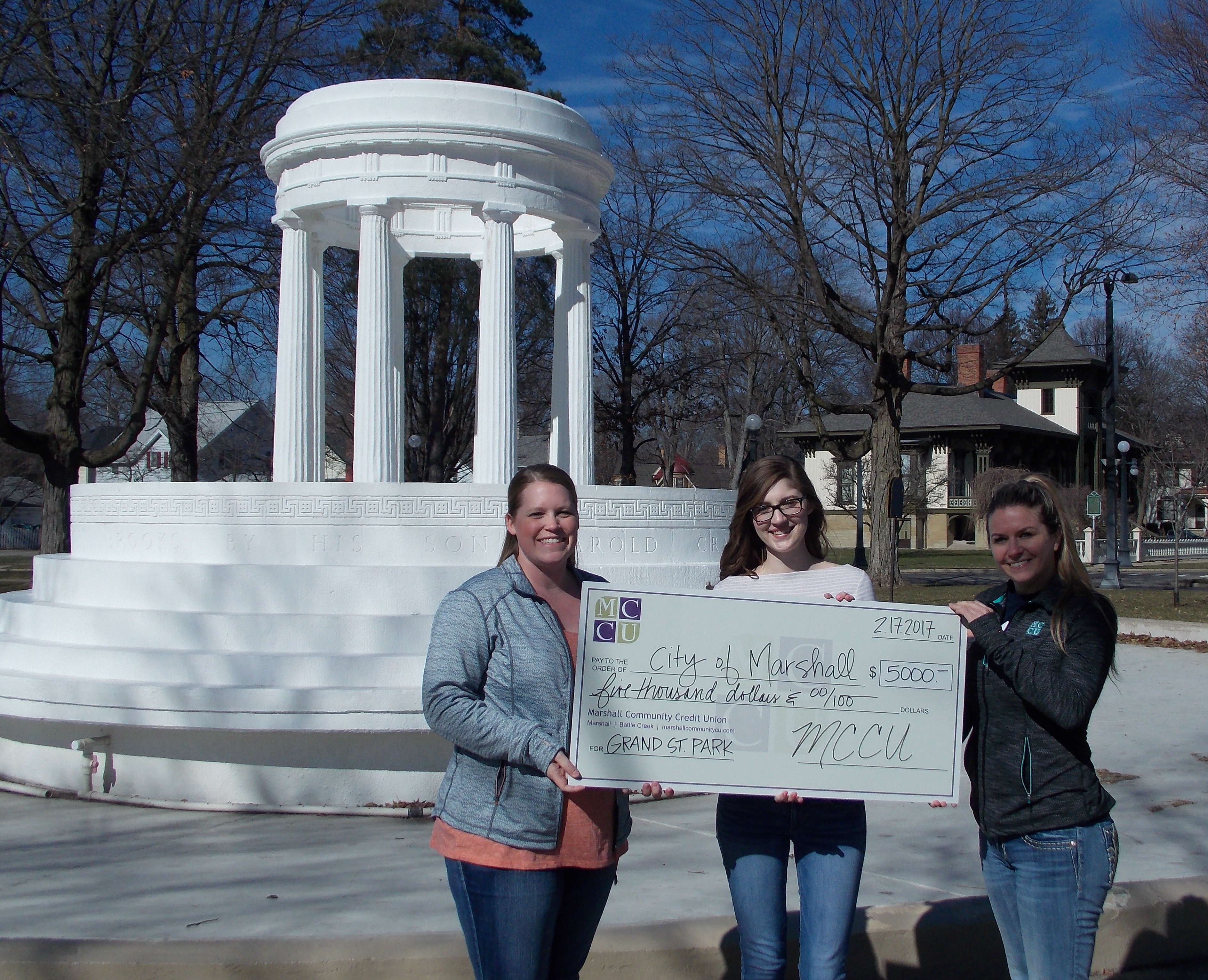 Marshall Community Credit Union recently made a $5,000 pledge to the City of Marshall's Grand St. Park fundraising initiative, and are encouraging other area businesses to make a pledge as well.
After a fire destroyed the corner café at 228 W. Michigan Ave. in Marshall, more than four years ago, the property has sat vacant and underutilized. It's time for a change. The City of Marshall would like to breathe life and community back into the property in the form of a downtown park. Park features include a vintage postcard-themed mural, picnic tables with chess boards incorporated onto the tabletops, a selfie-taking station, shade canopies and more.
Marshall is home to a beautiful, historic downtown that is booming with small businesses. They have hopes to bring new growth and innovation to the downtown area, invigorate community spaces, and provide lasting impressions and memories for residents and visitors alike.
The City of Marshall is currently collecting donations with a goal of $50,000. If the goal is met, the Michigan Economic Development Corporation and Michigan State Housing Development Authority will donate an additional $50,000 towards the effort.
Currently, the city has collected more than $13,000. Donations can be made online or in person at:
City of Marshall
ATTN: Grand Street Park
323 W. Michigan Ave.
Marshall, MI 49068
Questions regarding donations or the project should be directed to Elizabeth Renaud at (269)781.3985 x1517 or via email.

Consumers Credit Union Adds Financial Advisor to Serve Grand Rapids Area
Consumers Credit Union is pleased to announce the addition of Matt Van Hekken as a CFS* Financial Advisor in the Grand Rapids market. Van Hekken has 10 years of experience in the financial services industry and a background in personal banking assistance at a large retail bank. As such, Van Hekken is knowledgeable in every type of investment account and retirement plan available—from the largest publicly traded companies to small local businesses, hospitals, government plans and everything in between. He carries investment certifications in Series 7, Series 66 and State of Michigan life and health insurance, and is a graduate of Calvin College.
"I truly enjoy building relationships with members," Van Hekken says, "and helping them navigate the complex world of investment options in order to make decisions that are good for them and their loved ones." Van Hekken is securities licensed in Michigan.

North Central Area Donates Through Casual for a Cause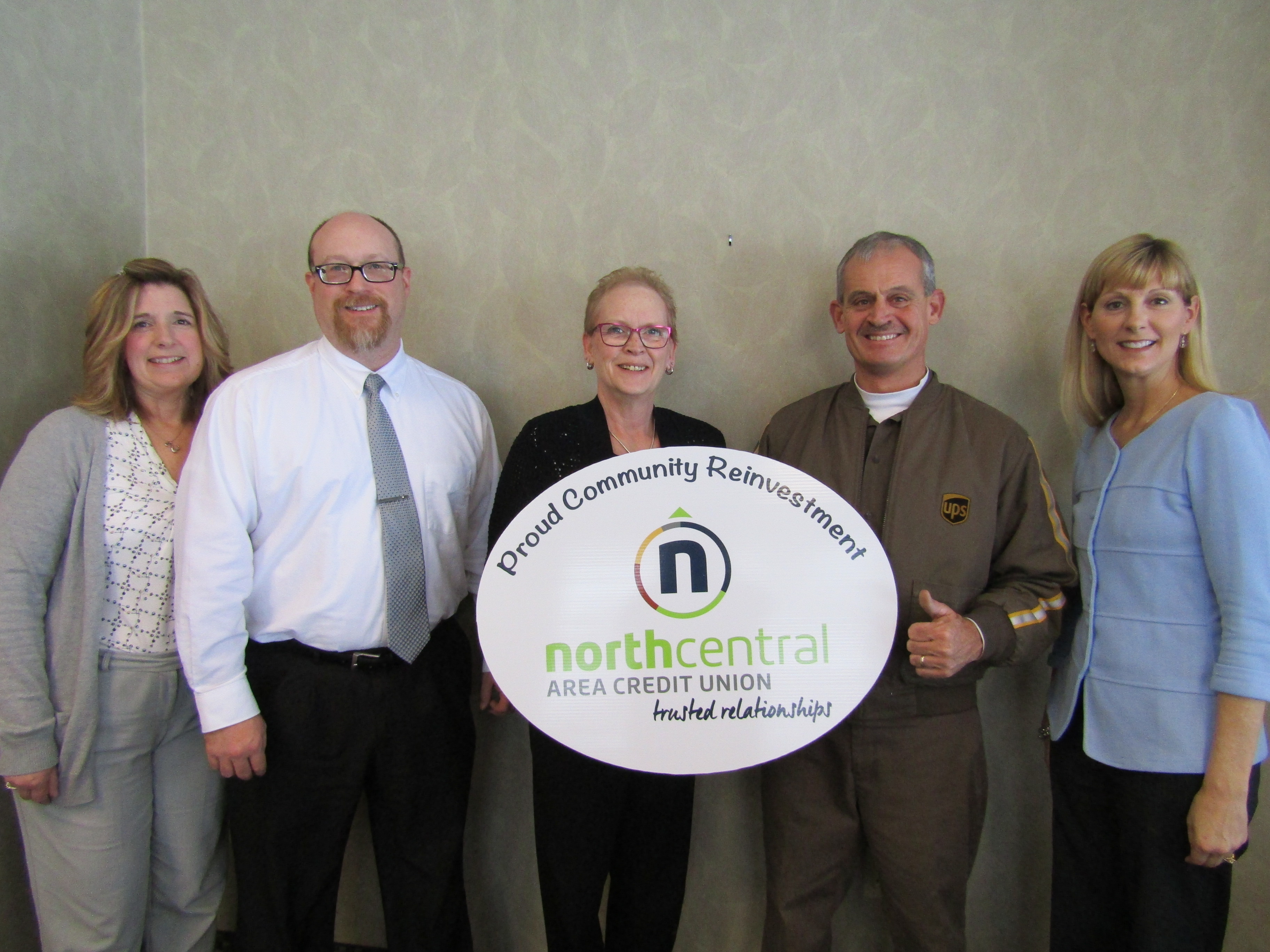 North Central Area Credit Union's (NCACU) Administration Building recently made a $2,434 donation to UPS Ed and Caren's Charity, Coats for Kids, as part of their annual Casual for a Cause charity donation. Coats for Kids provides coats and needed clothing to children in need in the area.
Ed, a route driver for UPS, and his wife Caren, started the charity several years ago to help address the needs of area youth who were often not prepared for winter. NCACU's Casual for a Cause is supported in each branch by employees who pay to wear jeans to work on Fridays. Each year the staff chooses a charity for their branch to support and NCACU matches the funds donated by each team as part of the credit union's Community Reinvestment Commitment. In all, NCACU has donated $6,725 to 5 local charities.

Honor CU Wins Economic Impact Award from Cornerstone Alliance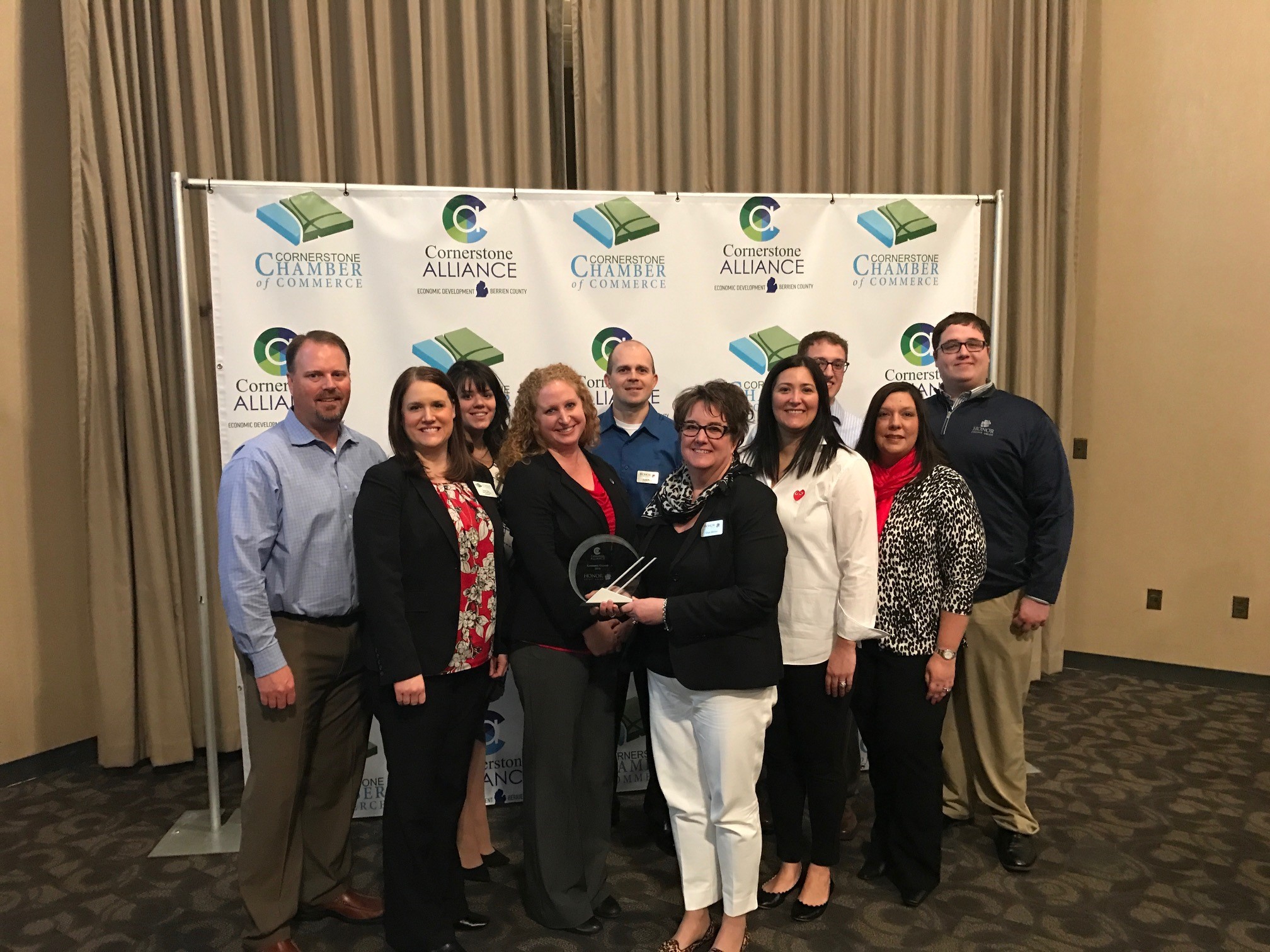 Honor Credit Union was the proud recipient of the Economic Impact Award from Cornerstone Alliance on Feb. 9, at the Cornerstone Alliance and Cornerstone Chamber of Commerce Recognition Breakfast held at Lake Michigan College's Mendel Center.
Shari Weber, Honor's chief financial officer, accepted the award, which recognizes a Berrien County
business for their commitment to continued investment and growth in the community.
Honor has six branches in Berrien County, including St. Joseph, Stevensville, Benton Harbor, Coloma, Berrien Springs, and Niles. Honor recently completed construction on a state of the art Operations Center in Berrien Springs and is currently building a new St. Joseph branch on Niles Avenue. Scott McFarland, Honor's chief executive officer, was a nominee for the Pat Moody Chamber Award and Tanya Urias, the St. Joseph branch manager, was nominated for the Chamber Ambassador of the Year Award.
Go to main navigation