Board Members to Explore Managing Benefit Costs
When credit union directors and CEOs head to the MCUL & Affiliates 2017 Spring Leadership Development Conference, April 28–30 in Mount Pleasant, they will have a wide selection of strategic, regulatory and operational training to choose from.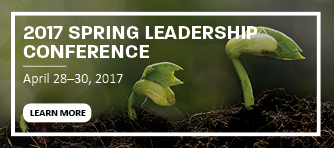 With ever-rising costs associated with employee benefits, CUNA Mutual Group will present a session on "Board Strategies for Managing Increasing Employee Benefits Costs." Attendees will discover how credit unions can strategically invest in funding solutions such as business-owned life insurance, annuities and even stocks and bonds to substantially increase return on assets —as long as earnings are earmarked for an employee benefits program.
Examples will be shared on how to safely structure a program so that it is not subject to the investment limitations of parts 703 and 704, how to ensure plans remain in compliance and perform as it was designed.
Nearly 200 attendees are already registered for the conference, where guests are welcome to attend the complimentary Friday night networking reception and purchase tickets for meals and a Saturday outing to tour the Alden B. Dow home which includes lunch at Mountain Town Station.
Go to main navigation