Employee & Building Updates
Great Lakes First Federal Credit Union Promotes New Senior Vice President
Great Lakes First Federal Credit Union in Escanaba, is pleased to announce the recent promotion of Sarah Slagstad to the position of senior vice president, effective Jan. 1, 2017.
Sarah starter her career working at MFC/Wells Fargo Bank in 1999. She joined Great Lakes as a teller in 2006 and has held numerous positions, including receptionist and loan officer. In 2009, Sarah was made Branch Manager of Great Lakes First Federal Credit Union's Gladstone branch. As branch manager, she oversaw all aspects of branch operations, including overseeing branch staff. Sarah was promoted to vice president in March of 2015 until her recent promotion. As senior vice president, Sarah will be responsible for the credit union's compliance, operations, and supervising staff.
Sarah is married and resides in Gladstone with her husband, Jeff. Together they have 4 children. In her spare time, she enjoys camping with family and friends, reading, and watching live entertainment.

Honor CU Announces Five Internal VP Promotions
Honor Credit Union is excited to announce five internal promotions! Megan Hendrix has been named Vice President of Administration, Katie Berry has been named VP of Human Resources, Josh Vissering has been named VP of Finance, Mary Unruh has been named VP of Operational Efficiencies, and Kathy Burdick has been named VP of Organizational Design.
Hendrix enters her new role after previously serving as director of corporate planning. She has been with Honor for 11 years in various roles, from teller to project manager. Originally from Decatur, she resides in St. Joseph with her husband, Paul, and son, Logan. Hendrix received her Bachelor of Science degree with a focus in Project Management from Capella University.
Berry has been with Honor for nearly nine years. She most recently served as director of human resources. She resides in her hometown of Buchanan with her husband, Jeff, and two daughters, Aspen and Reese. Berry is an alumna of Central Michigan University, where she received her bachelor's degree in human resource management.
Vissering has been with Honor since 1998, when he started as a co-op student in high school. He most recently served as ALM and investment manager. The Michigamme native currently resides in Negaunee. Vissering is an alumnus of Northern Michigan University and the CUNA Management School.
Unruh has been with Honor for 41 years! She is a longstanding member of Honor's leadership team, as she has previously served as VP of accounting and operational efficiencies, and vice president of finance. In her new role, Unruh will help all areas of the credit union find ways to perform more efficiently while enhancing the member experience. The Benton Harbor native currently resides in Coloma with her husband.
Burdick has been with Honor since 2004, and had spent the past eight years as vice president of human resources. In her new role as vice president of organizational design, she will oversee the integration of team members and core business strategy. Burdick, an alumna of Lake Michigan College, is originally from St. Joseph and currently lives in Bridgman.

LOC Student Run Credit Union Expands Program With Howell Public Schools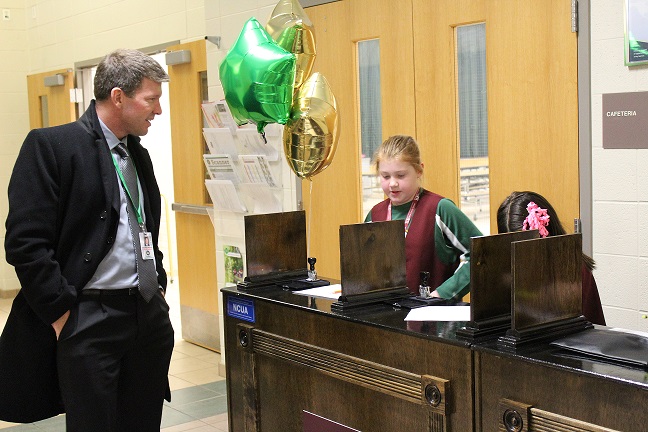 LOC Federal Credit Union in Howell is excited to announce an expansion of our student-run credit union program with Howell Public Schools, which will initially bring a student-run credit union branch to three new schools.
In announcing the partnership, LOC Federal president and CEO James Dickinson said, "Last year, the superintendent of the Howell Public Schools, Erin MacGregor, approached us about expanding our program further into his school district. I am pleased to announce that in early 2017 three more student-run credit unions will join programs currently in Howell Public Schools at Voyager and Three Fires elementaries. Our goal is to be in every Howell elementary and middle school by the end of the 2017-2018 school year."
Operations began on Jan. 20 at Ruahmah J. Hutchings Elementary School; Northwest Elementary School operations will begin on Feb. 3. Highlander Way Middle School's student-run credit union will open later in first quarter 2017.
This unique program consists of a LOC Federal branch inside the school. Each student-run credit union is open one day a week, and operated by student employees. An LOC Federal employee is always present to supervise operations and ensure accuracy and confidentiality are maintained.
In pursuing this expanded venture with LOC Federal, Howell Public Schools Superintendent Erin MacGregor said, "Over the past 10 years, our partnership with LOC Federal Credit Union has provided hundreds of students the opportunity to gain real world experiences and essential life skills. The students at our schools with student-run credit union branches gain leadership experiences and financial literacy from an early age. We are very excited to be able to expand this program into additional schools in our district so that more students will have these opportunities. We are so thankful for this partnership."
Participating students must apply and interview for their positions at the credit union. Students are responsible for conducting daily teller transactions and opening accounts for other students at their school.
Tim Moore, principal of Hutchings Elementary, said they chose to partner with LOC Federal "as part of our vision for what education looks like for a 21st century student. LOC Federal provides us with a unique opportunity to combine the classroom curriculum, leadership opportunities and real-world experiences into one great project-based learning experience for all of our students."
The student-run branch is available for students, parents and faculty to make deposits and withdrawals from LOC Federal accounts while providing students the opportunity to learn and practice basic financial management in an interactive and engaging way. The program's focus is on its student membership, encouraging them to open savings accounts and begin to make a habit of saving. Additionally, it helps students practice basic, necessary math skills in a practical way.
Go to main navigation