In Brief...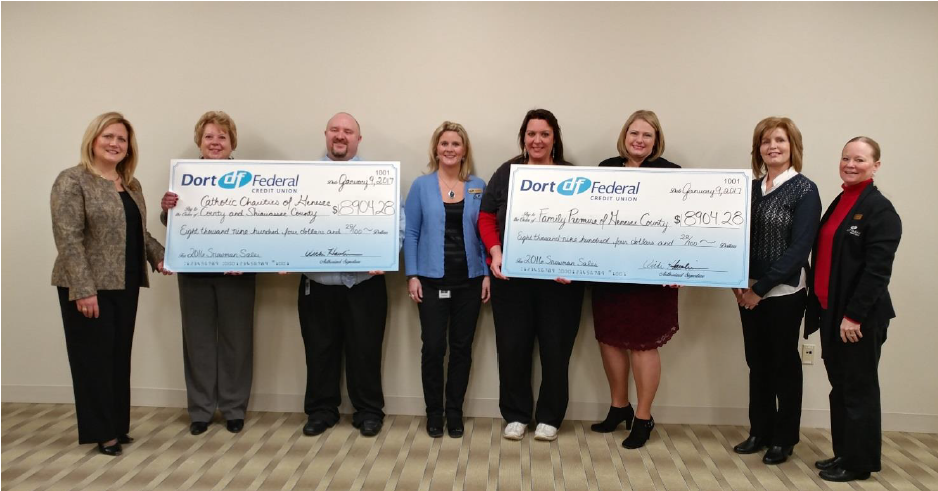 Dort Federal Credit Union Donates Record $17,808.56 Through Snowman Fundraiser
Dort Federal Credit Union is thrilled to announce the results of their 2016 Annual Snowman Sales fundraiser benefiting local charities. The 2016 beneficiaries, selected by Dort Federal Credit Union employees, will share the proceeds totaling $17,808.56. Catholic Charities of Genesee and Shiawassee Counties and Family Promise of Genesee County each received $8,904.28.
For more than 20 years, Dort Federal Credit Union has conducted the Annual Snowman Sales campaign through donations received from members throughout the holiday season. Dort Federal's employees also contributed more than $3,000 to the campaign at Dort Federal's employee holiday party in December.
"Between October 31st and December 10th we accepted donations to our Snowman Sales campaign, and this is the largest donation amount that we have ever collected," said Deana Turcott, director of human resources for Dort Federal. "This year's generosity from our members and employees has been overwhelmingly positive."

Route Your Retirement Fair
The Route Your Retirement Fair, brought to you by LOC Federal Credit Union and the Farmington Community Library with support from the Michigan Credit Union Foundation, is an interactive simulation designed to help participants begin planning ahead for their retirement by envisioning the lifestyle they plan to live and ensuring that their financial plan empowers them to live their desired lifestyle. Whether participants are close to retirement or many years away, the fair will help them determine next steps in the planning process.
Register by visiting locfederal.com/ryr

Location: Farmington Community Library, Farmington Branch Meeting Room, March 14, 6–8 pm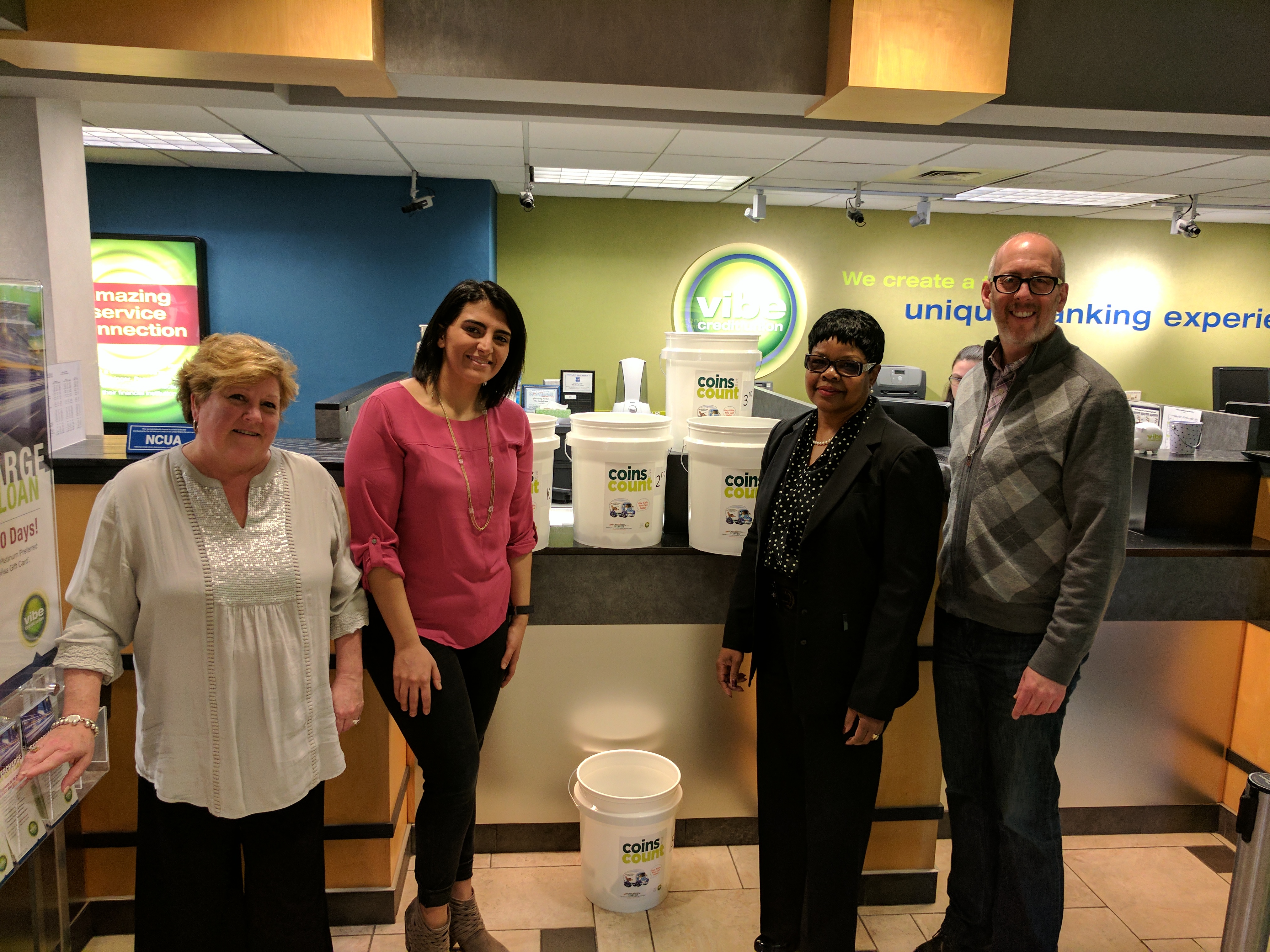 Vibe Credit Union Partners With Forgotten Harvest to Raise Funds for "Coins That Count"
From January 17–31, students from Burton Elementary in the Berkley School District participated in a new program called "Coins that Count". This program was created to teach the students money counting skills while donating to Forgotten Harvest, a local charity. Coins that Count raised a total of $3,652.08 which will allow Forgotten Harvest to provide 14,600 meals to local people in need. Chief Marketing Officer Tyler Ross commented, "Partnering with Forgotten Harvest is a rewarding initiative because we have a common goal of giving back to the community."

Saginaw Medical Federal Credit Union Supports Local Animal Rescue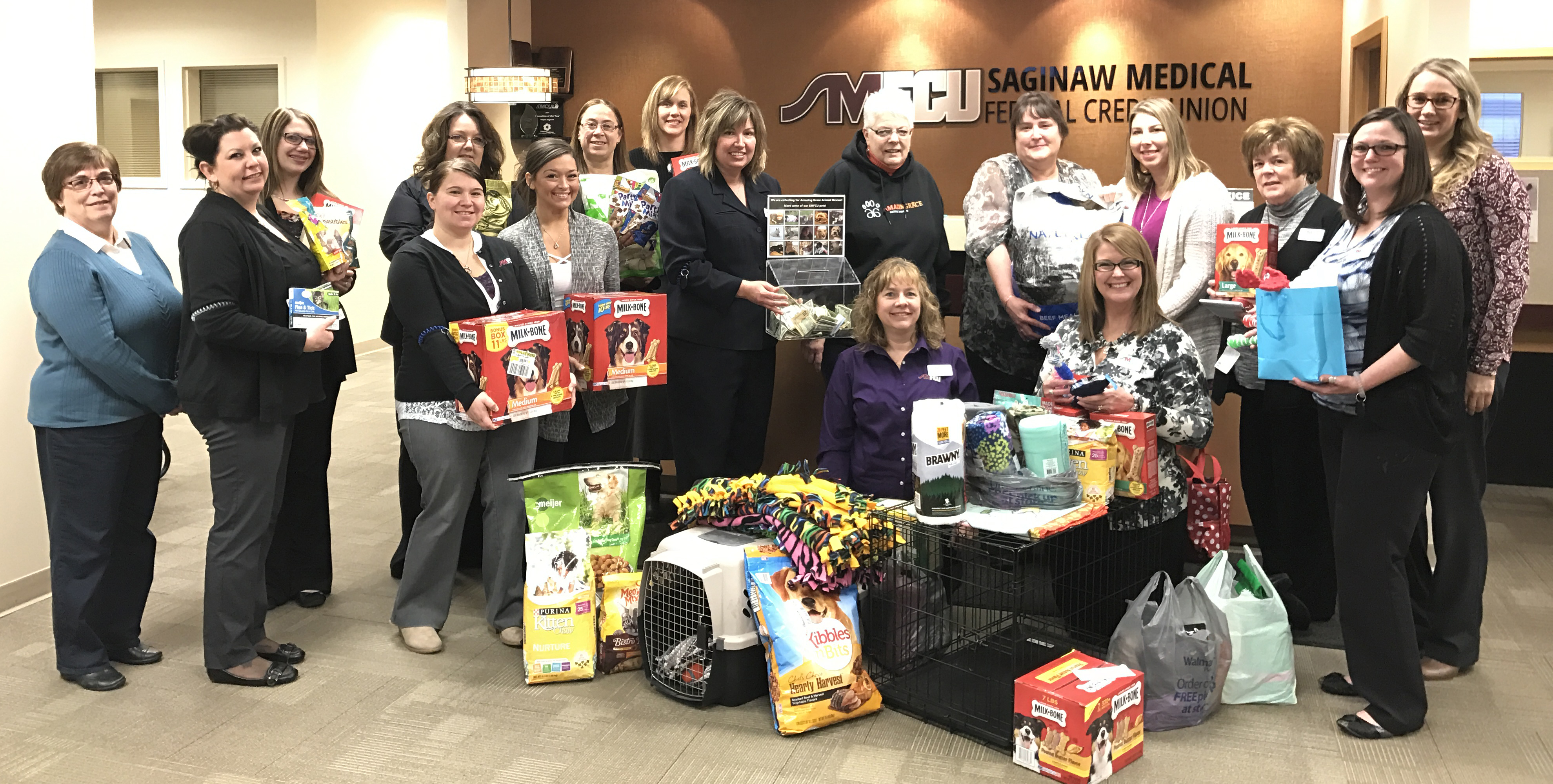 Saginaw Medical Federal Credit Union recently collected "Wish List" items for Amazing Grace Animal Rescue at both their locations. Lots of goodies, toys and shelter needs for our furry friends, along with record cash donations from members and employees were collected!
"We're delighted to support the Amazing Grace Animal Rescue because the rescue completely relies on donations to provide shelter, food and medical care to lost and abandoned animals." Said Laura Crase, President/CEO of SMFCU. "Like many of our staff and members, we love our pets, and so we're happy to support the amazing work done by the staff and volunteers at the shelter."
Amazing Grace Animal Rescue is non-profit animal rescue that has saved the lives of many abandoned, forgotten or abused animals and placed them in loving homes. Amazing Grace Animal Rescue is located at 3365 Freeland Road in Saginaw and may be reached by calling (989) 792.0346.

TBA Credit Union Receives 5-Star Rating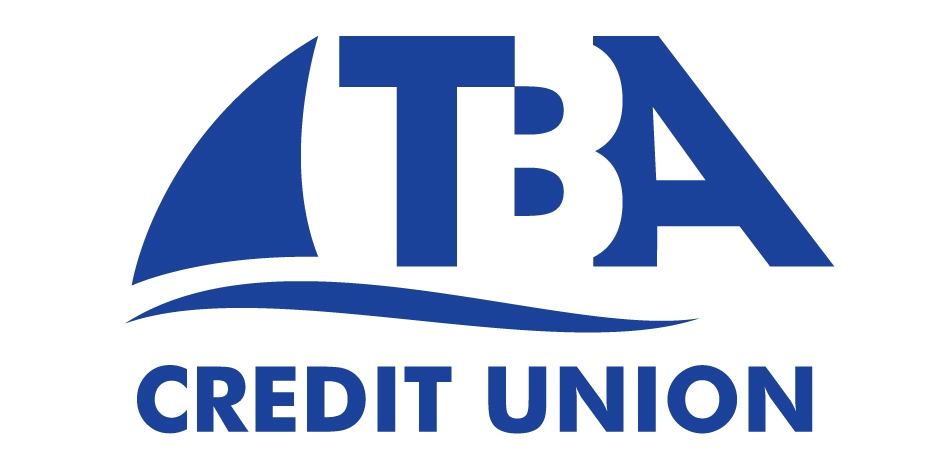 TBA Credit Union received a 5-star rating from Bauer Financial earlier this month; a rating that the credit union has received since 1999.
"We were thrilled to hear the news," said Karen Browne, TBA Credit Union CEO. "This prestigious recognition would not be possible without the dedication of our volunteer Board of Directors and the enthusiasm of our team members. We are honored to be amongst the other recipients, both locally and nationally."
Bauer Financial, Inc. has been analyzing and reporting on the financial condition of the nation's banking industry since 1983. They are a source for unbiased, independent bank and credit union star-ratings.

American 1 Credit Union to Pay for Employee Volunteer Time Off
American 1 is excited to give back even more to our communities with a new Volunteer Local program. We encourage everyone to participate in their communities and, to help our employees do even more, we are giving them paid time-off to volunteer.
American 1 will be paying for more than 350 hours each month for all employees to volunteer in their community. The goal is to get more employees actively involved in helping to improve their community.
Cheryl Schantz, vice president of human resources at American 1, said "It's a great way for our employees to be engaged in our culture of community giving. I'm excited because our employees want to be involved and sometimes they don't know where to start. We've encouraged them by giving them resources, and now the flexibility in their work schedule to be able to volunteer."

Northland Accepting Scholarship Applications
Northland Area Federal Credit Union is pleased to announce the application period is now open for 2017 Jerry Erickson Educational Scholarships. This year, Northland has allocated $5,000 in funding, and qualified member applicants have the opportunity to earn $1,000 awards for college expenses.
The fund is named for Jerry Erickson, a retired volunteer who served the credit union for 46 years. "Jerry has always been a tremendous supporter for education," said Northland CEO Pete Dzuris. Northland honors Erickson's years of service with scholarships that can help student members.
Applications will be evaluated with equal emphasis placed on academic achievement, community service/involvement and essay content. Scholarship applications are available for download at northlandcu.com. Completed applications must be submitted by postal mail. The application deadline is March 1.
Go to main navigation