In Brief...
Credit Union Collection Consortium Date Announcement
The Credit Union Collection Consortium will hold its next meeting on Wednesday, Feb. 8, from 2–4 p.m. at Community Financial Credit Union's new office located at 22920 Venture Drive in Novi, just north off of Nine Mile Road between Meadowbrook and Novi Road. Well known credit union attorney Tami White of Holzman Corkery, PLLC will provide a complete review of the Chapter 13 bankruptcy process. This is a great opportunity to update your knowledge of bankruptcy rules and to get specific questions addressed. All meetings are free and all interested credit union professionals are encouraged to attend. Please call Ken Kollar at 734-582-8844 if you have any questions.

The Battle Creek Chapter of Credit Unions Donates $1500 to the Food Bank of South Central Michigan
The Battle Creek Chapter of Credit Unions recently hosted an evening event to recognize and honor local non-profit organizations that have made a positive impact in their community. The Food Bank of South Central Michigan was one of the organizations honored that evening. They were presented with a donation of $1500 by chapter members to use towards helping members of the communities they serve be food secure.

"It takes a concerted effort from us all to fight hunger in our community," said Patty Parker, executive director of the Food Bank of South Central Michigan. "We are so thankful to organizations like the Battle Creek Chapter of Credit Unions. It is because of amazing community partners like them, who help us reach more people in need, we distributed a total of 9.4 million pounds of food last year."

The Battle Creek Chapter of Credit Unions is pleased they are able to offer grants to these organizations to help members in their communities as they have done in previous years, and will continue to do so for years to come.

United Financial Credit Union Sells Winning Federal PAC Grand Raffle Ticket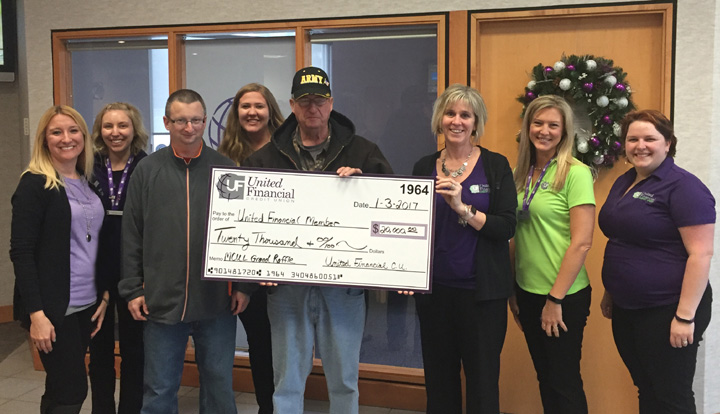 The 2016 Michigan Credit Union League Federal PAC Grand Raffle winners were drawn and United Financial Credit Union is extremely excited to announce that the 1st place ticket was sold at one of their branch locations. Jerry G. who purchased his ticket at the Chesaning Branch, was the 2016 Grand Raffle 1st place winner of $20,000.
"We were all excited to receive the phone call that one of our members won this year. We have participated in the Grand Raffle for numerous years and this was the first winner we have had." said Barbara Appold, CEO of United FCU.
A total of seven prizes were awarded, including a 1st place prize with a choice between $20,000 towards the purchase of a preselected vehicle or $20,000 cash, a 2nd place prize of $5,000, and five 3rd place prizes of $1,000. The Grand Raffle is an essential part of the Michigan Credit Union League's political action fundraising efforts and is key to ensuring Michigan credit unions have a strong voice in Washington D.C.
On Nov. 21, the 2016 Grand Raffle drawing was held at the Michigan Credit Union League & Affiliates in Lansing with a total of 47,814 tickets sold by 128 credit unions, raising $224,885.

American 1 CU Donates $500 to Hillsdale County Sheriff's Office
On Jan. 5, American 1 Credit Union announced that a $500 donation was given to the Hillsdale County Sheriff's Office in an effort to support the Sheriff's Office as they raised money for the Law Enforcement Torch Run benefiting Special Olympics Michigan. The Hillsdale County Sheriff's Office will be participating in the Polar Plunge event held annually at Clark Lake. The event highlights the programs of Special Olympics Michigan and raises money for their Summer Games as well as other programming.
"It's entirely because of our members that we are able to support wonderful events like this," said Marla Sanford, Marketing Director for American 1. "When our members choose to finance local, we're able to donate local and keep that money right here in our communities, where it belongs."

TLC Community Credit Union Supports Local Scouting Efforts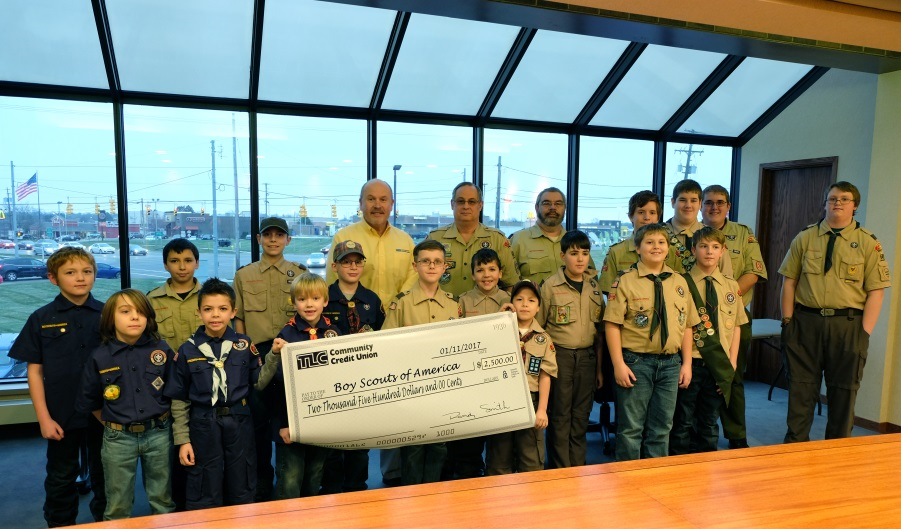 TLC Community Credit Union recently donated $2,500 to Boy Scouts of America, Chief Lenape District, in support of operations of local scouting efforts.
The Chief Lenape District serves approximately 767 youth members in Lenawee and Hillsdale Counties. TLC's donation will help provide Scouts with local camps, programs, and leadership to ensure the best Scouting experience.
As a former Cub Scout and Boy Scout, Randy Smith, president and CEO of TLC Community Credit Union is pleased that TLC is in a position to assist local kids with education and support.
Bryan Bowers, district chairman, thanked TLC for their continued support of area youth through Boy Scouts of America.

Rogue River Community Credit Union Holding First Annual Scholarship Program
Rogue River Community Credit Union (RRCCU) is proud to be holding its First Annual Scholarship Program to provide funds to graduating high school seniors. Beginning in the fall of the 2016 school year, applications become available at Rogue River Community Credit Union at 485 S. State Street in Sparta. Student applicants will be chosen based on academic standing, community service and a letter of recommendation. Along with these items, students are also asked to submit an essay. Under the Program, two $1,000 scholarships will be awarded.
The first $1,000 scholarship will be awarded to a graduating senior pursuing a two or four-year college degree. The second $1,000 scholarship will be awarded to a graduating senior pursuing an Apprenticeship or Certification in a selected field.
"After serving the community for more than 61 years, we are proud to be in a position to give back to our community. It has been the commitment and loyalty of our membership that has made this possible" said RRCCU CEO Erika Bauer.
Go to main navigation