Compliance Conference Enables Staffers with Expert Insights
Because of the heightened concerns being faced in the industry, the entire first day of the MCUL & Affiliates 2017 Compliance Conference is being dedicated to the topic of Internal Fraud and providing Michigan credit unions the resources and insights needed to prevent and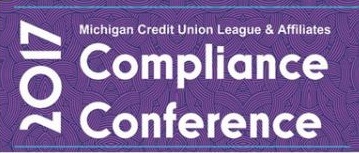 handle such issues.
The agenda brings together information, experts and experiences–right here in Michigan–for attendees to have one-on-one opportunities to meet with pros, ask questions and to get ahead of 2017 regulatory changes. Attendees will hear from the state regulator and get the inside scoop on recent cited exam issues, as well as leave with tools to help credit union staffers understand the signs of financial elder abuse and how to respond.
New this year will be a vendor showcase to meet business providers with valuable resources and solutions to be more effective. Plenty of time has also been allotted for participant to chat with peers, including a networking reception at the popular Beggar's Banquet.
Register today for the Compliance Conference, taking place Feb. 22–23 at the Marriott at University Place in East Lansing. Registration is $310 per person for the full conference; $169 for a single day.
Go to main navigation