In Brief...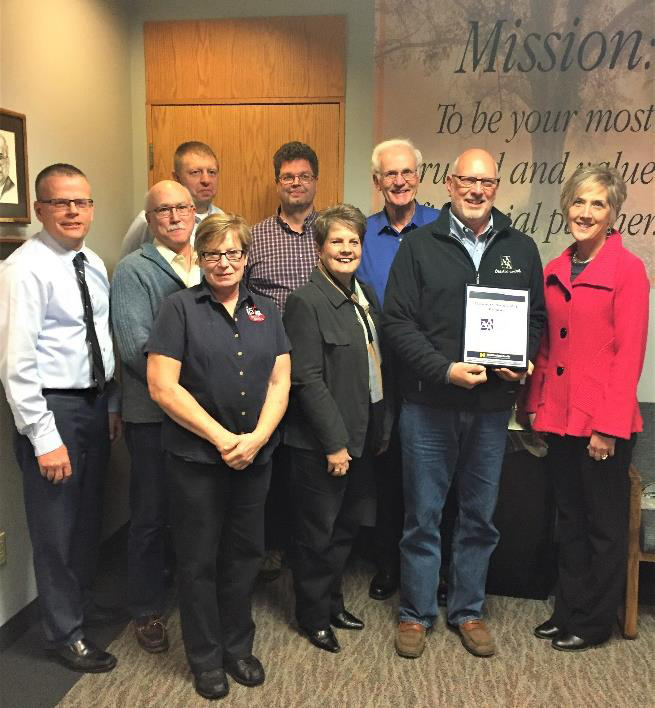 Alpena Alcona Area Credit Union Donated to MidMichigan Emergency Department
Alpena Alcona Area Credit Union (AAACU) volunteer board members recently pledged their support to MidMichigan Business Honor Roll.
AAACU has a long history of supporting the local health care system by becoming a Business Honor Roll member in 1996, and continuing this partnership every year since. AAACU's current pledge of $3,000 tops their financial contribution of more than $27,000. The Business Honor Roll is a group of business and industry leaders who promote the advancement of healthcare in northeast Michigan. The group is associated with the Development Council's Business Relations Committee who partners with area businesses to improve patients' healthcare experience and promote a healthy workplace.
The Business Honor Roll is open to all area businesses for an annual donation. For more information please contact Ann Diamond at (989)356-7738 or via email.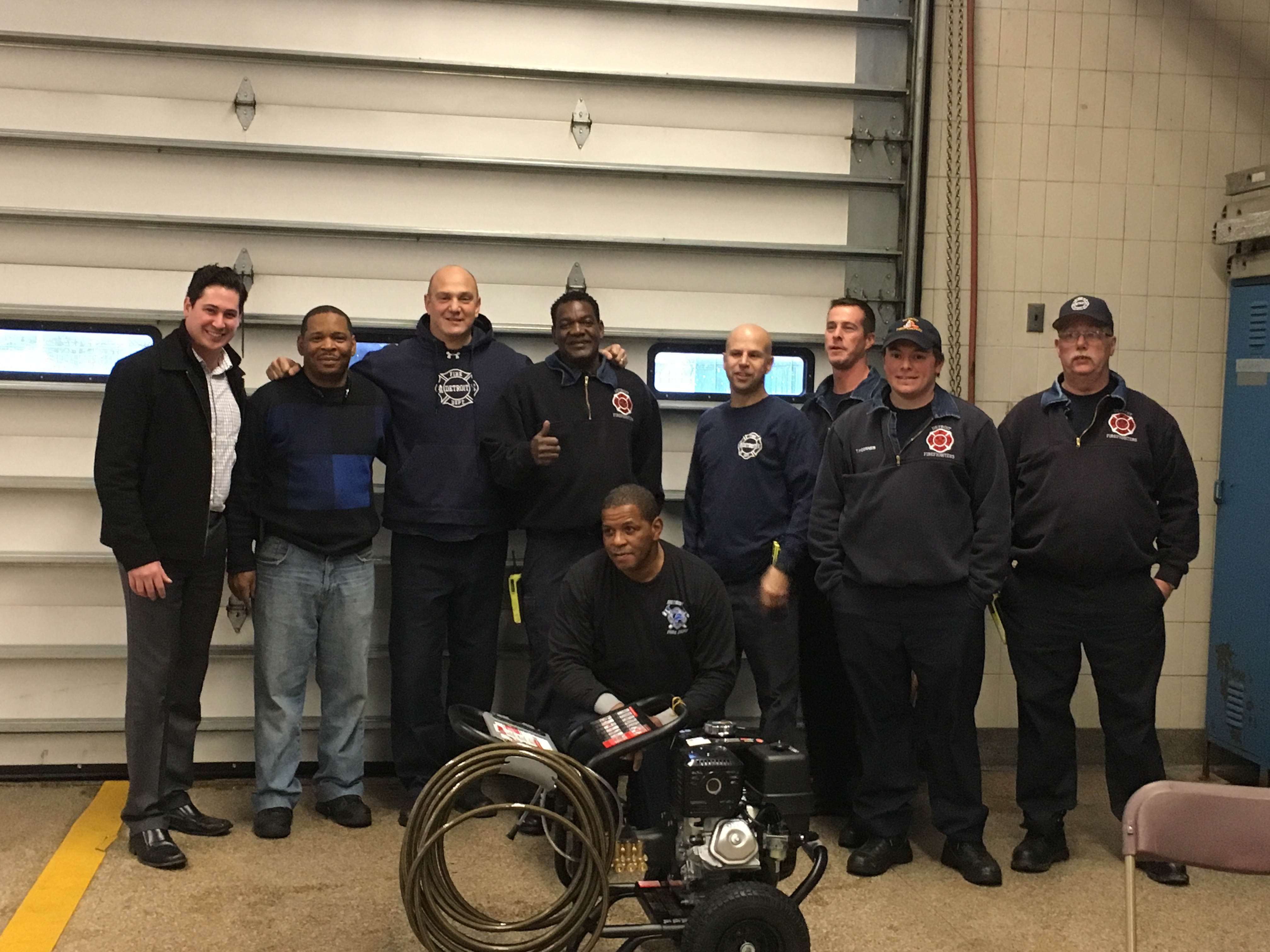 DMCU Supports Rivertown Detroit Fire Department
Diversified Members Credit Union (DMCU), being no stranger to community outreach, recently purchased and donated a power washer and 10 executive office chairs to the Detroit Fire Department located at Mt. Elliot and East Lafayette Blvd. As an active member of the Rivertown Detroit Association, DMCU CEO Kathie Trembath coordinated the donation with Rivertown Detroit Association President Chip Rohde.
"We do everything we can to help our hard working firefighters and police officers, many of which are longtime members of our credit union," says Trembath. "We take great pride in giving back to our communities and when we found out the Fire Department was in need of a few items, we were glad to pitch in."
For more information about the Rivertown Detroit Association, visit www.rivertowndetroit.pro. For more information about Diversified Members Credit Union, visit www.dmcu.com or call 313.568.5000.

Catholic Federal Credit Union's Monsignor Forbes Scholarship Applications Now Available Online
The college scholarship is available to members of the credit union who are planning to attend during the next academic year or are currently attending an accredited college, university or other institution of higher learning. The award is based on the student's personal achievements, scholastic accomplishment, financial need, community service and grade point average.
The scholarship program was inspired to honor the legacy of the late Msgr. Eugene A. Forbes whose dedication and commitment to encouraging the pursuit of higher education, coupled with the credit union's philosophy of 'people helping people' continues to be an integral part of Catholic Federal Credit Union.
Since 1982, the scholarship committee has awarded more than $1.8 million dollars and over 3,800 scholarships to students who want to begin or continue their education. The deadline to submit a completed application is Saturday, March 4, 2017.

UMCU Re-opens Newly Renovated UM Campus Branch, Pierpont Commons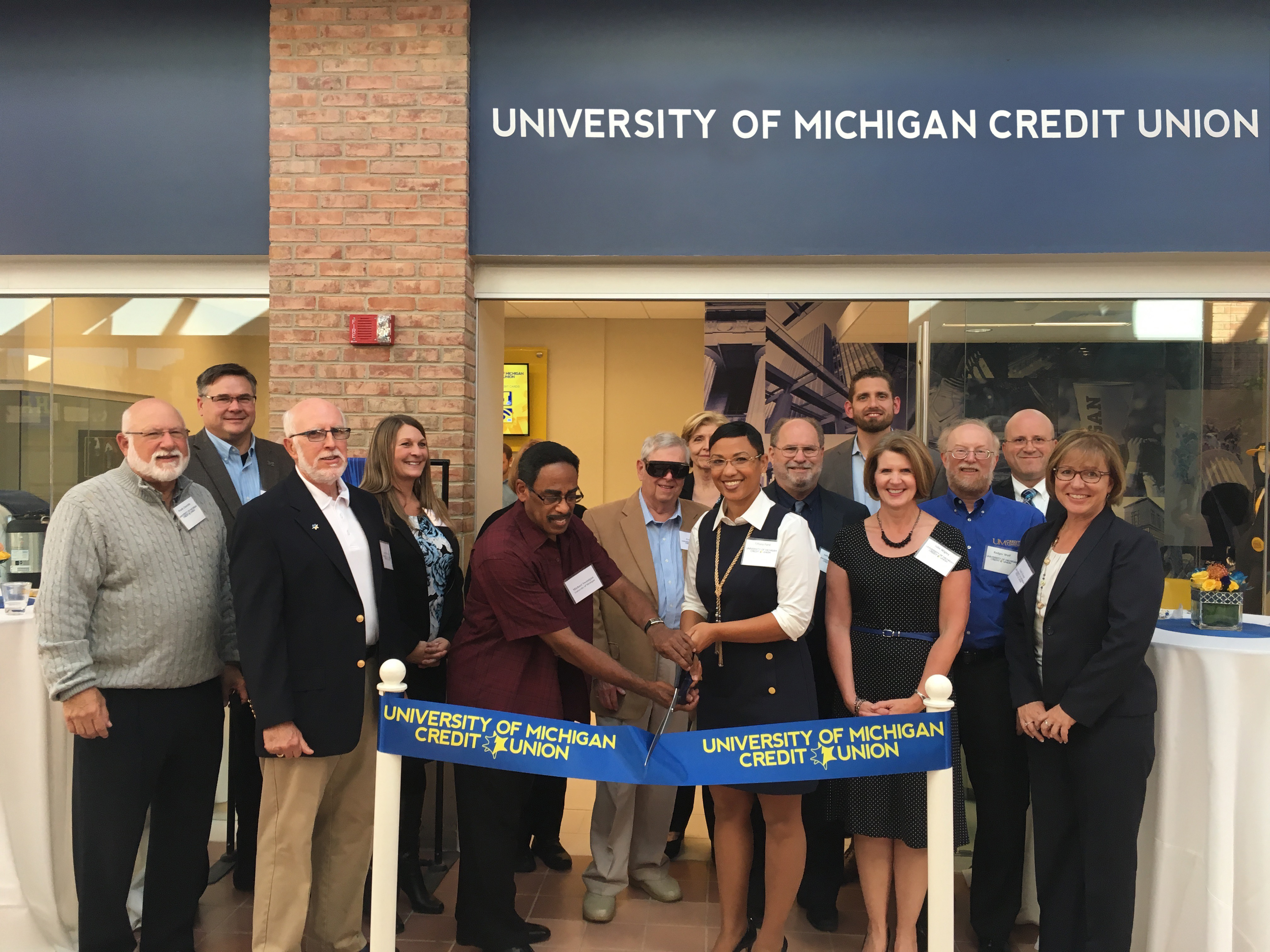 The University of Michigan Credit Union (UMCU) celebrated the newly renovated Pierpont Commons Branch with a re-grand opening to the public early this October.
This freshly upgraded branch is located on the first floor of the University of Michigan's Pierpont Commons building, on North Campus. This location is important to UMCU in the effort of catering to the Leaders and Best. Specifically students, faculty, and staff of the School of Engineering, School of Music, Theatre and Dance and School of Art and Design who are in walking distance of this branch and able to visit UMCU at their convenience.
Innovative features have been added to this branch to better address members' needs with technology, such as iPads and video conferencing with a UMCU Team member, to provide quick and convenient financial services.
The modernized style of this branch exemplifies UMCU's dedication to the University of Michigan. In addition to the sleek maize and blue furniture, the mural spanning across the back wall features North Campus photos that capture the unique community and students that make the area so inspiring.
"We are incredibly gratified with the new design of this branch. In addition to providing innovative and convenient financial services to our members, there is still the familiar warmth of the UMCU atmosphere," said Tiffany Ford, UMCU CEO.

Adventure Credit Union Celebrates Groundbreaking of New Branch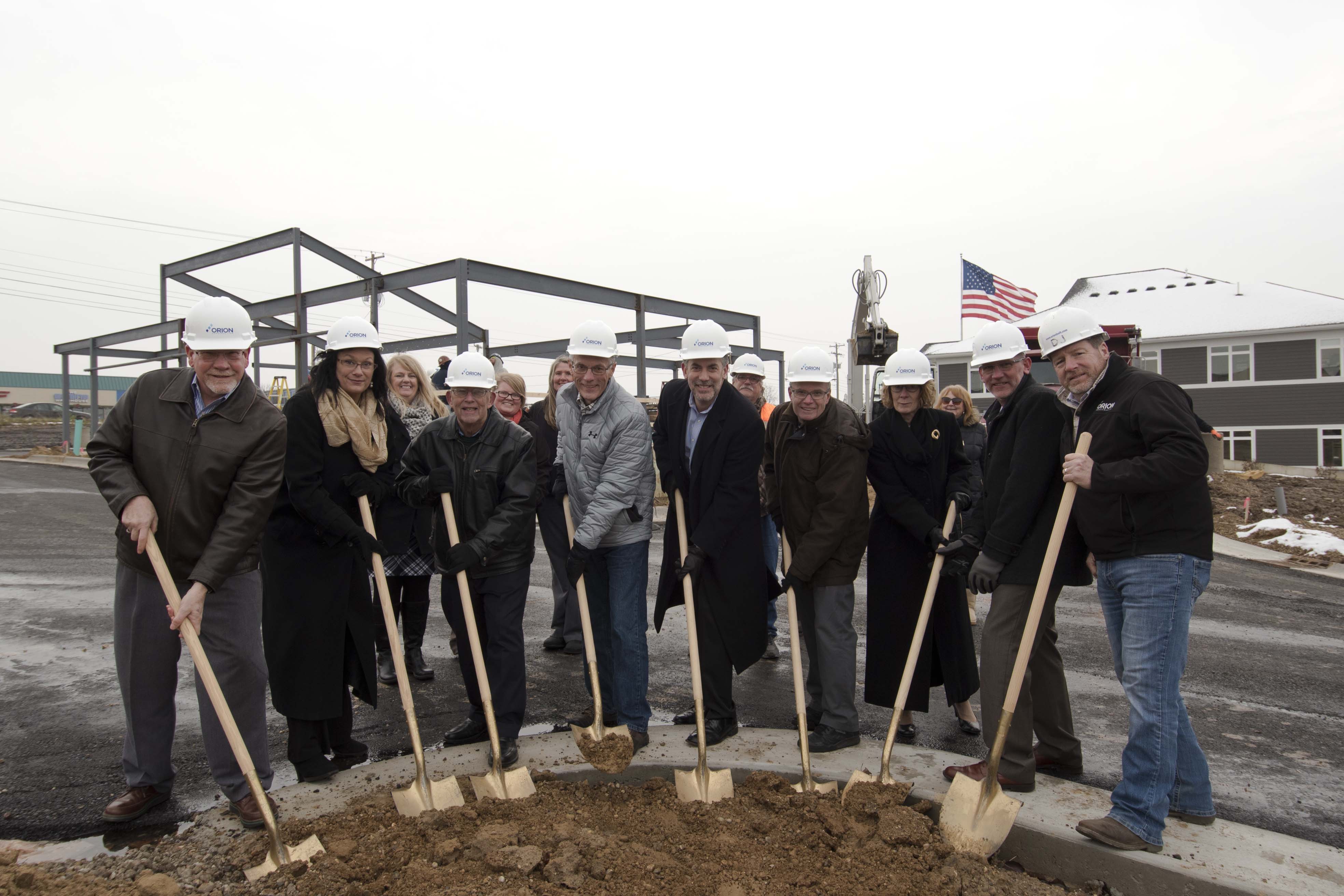 Adventure Credit Union, currently celebrating 80 years in business, joined Orion Construction and Kentwood city officials in hosting a formal groundbreaking ceremony at 6672 Crossings Drive SE in Kentwood. The ceremony marked the construction kick-off of their newest branch which general contractor, Orion Construction, expects to complete in the spring 2017.

Adventure Credit Union will relocate its Gaines Township branch currently at 6750 Kalamazoo Avenue SE to 6672 Crossings Drive SE in Kentwood. The new 2,800 square foot stand-alone branch is located less than a quarter mile north and across the street from Adventure's current location.
"It will be slightly larger than the current location and provide additional member convenience and easy access," said Karen Wietzke, Adventure Credit Union EVP. The new branch facility, designed by Concept Design, will be a stand-alone, single story building with road visibility, parking, drive-thru and a theme that speaks to the recent re-branding the credit union successfully underwent earlier this year.

"As one of the fastest growing credit unions in the state, Adventure is continuously looking for innovative ways to create a positive member experience. We are excited to utilize the latest technologies in the industry at our newly expanded location in the Kentwood M6 corridor. We value our relationship with Orion Construction as we begin the building of this new location," said Steve Bush, Adventure Credit Union CEO.

The new branch will feature drive-thru services with several options including a drive-up ATM and a drive-up ITM (Interactive Teller Machine). An ITM is a video enhanced ATM which provides a personal experience blended with ATM functionality. Inside, the branch will offer a self-serve Kiosk, digital displays, light box display and an additional ITM. In-person financial services will be provided by a team of highly trained staff.

Kellogg Community Credit Union's New Branch at the Corner of Drake Road in Kalamazoo is Now Open
Kellogg Community Credit Union (KCCU) is pleased to announce that their new branch located at 1650 South Drake Road in Kalamazoo, in the Corner@Drake development is now open to serve members. They are in the same development at Stadium Drive and Drake Road where retailers Costco and Field & Stream are located.
The new full-service KCCU branch is ready to assist members with their daily transactions as well as loan services, mortgages, investment services and commercial accounts, including lending, a 24 hour ATM, convenient drive thru service, and a night depository.

"We are very excited to open our new branch at the Corner@Drake, expanding our footprint in the Kalamazoo market," says Tracy Miller, CEO of Kellogg Community Credit Union. "KCCU is growing, and we believe this area will be a perfect location for us to expand our services. We are proud to be a part of this great community and look forward to serving existing members as well as new members and businesses."

The new branch will provide added convenience for KCCU members, as well as anyone living in the surrounding area.

MCCU Receives Thermopylae Award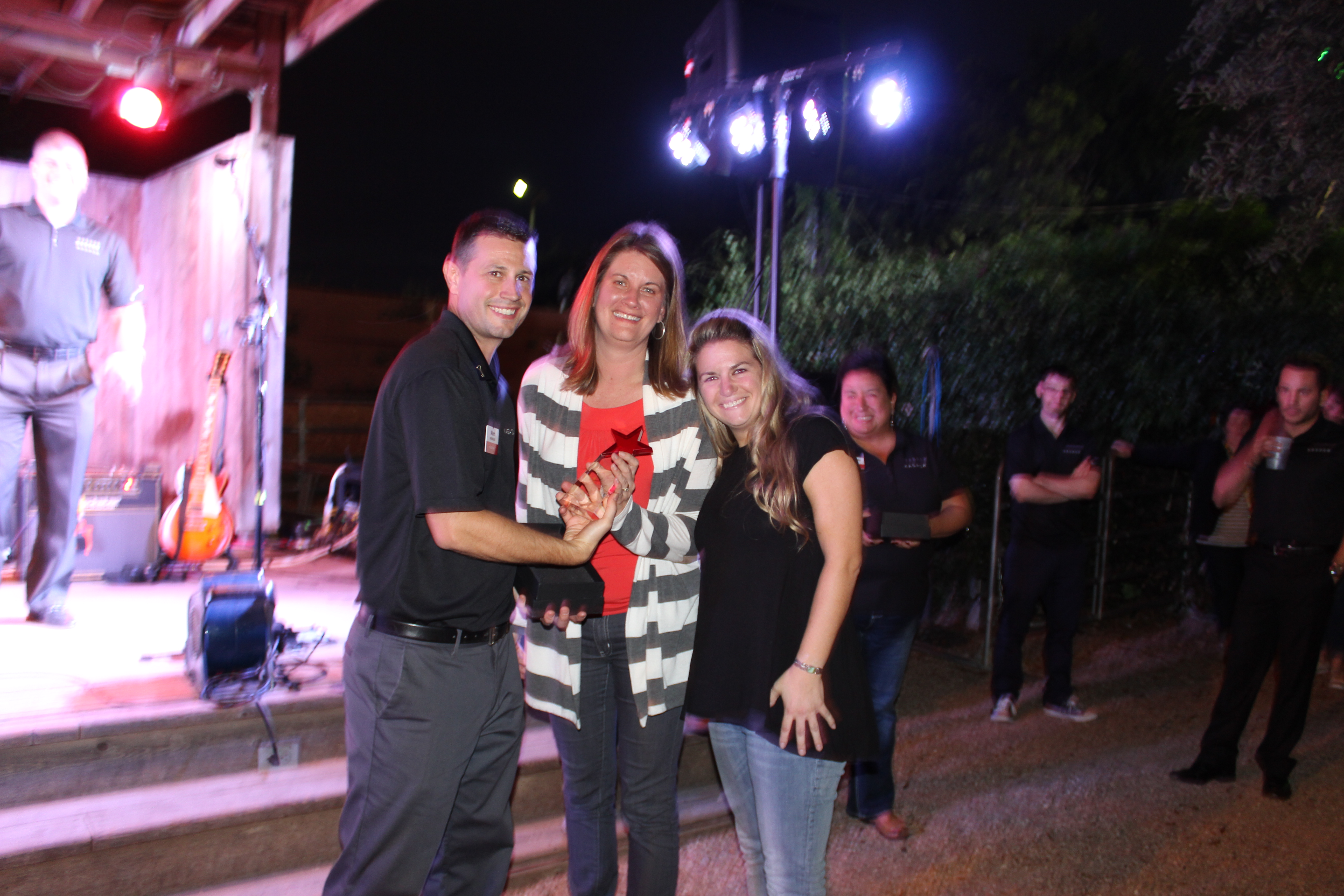 Marshall Community Credit Union (MCCU) is a recent recipient of the Kasasa's Thermopylae Award. Chief Executive Officer, Heather Luciani, and Branch Manager, Corrie Rozell, were presented the award late October during the Kasasa Gold Conference in Austin Texas.
The award's meaning comes from the Battle of Thermopylae, which is best known for an "underdog" type of accomplishment. Most simply explained, in 480 B.C. the Greek army of 300 Spartans and 6,000 surrounding city-state soldiers outfought a Persian army of 10,000. While the Greek force was considerably smaller than its opponent, they were determined to be successful.

MCCU proudly offers Kasasa, a free checking account product that offers monthly rewards in the form of higher dividends, cash back, or refunds on purchases. MCCU has paid more than $168,000 in Kasasa rewards to members in 2016. For more information, stop in to either MCCU office location or visit MCCUrewards.com.
Go to main navigation