In Brief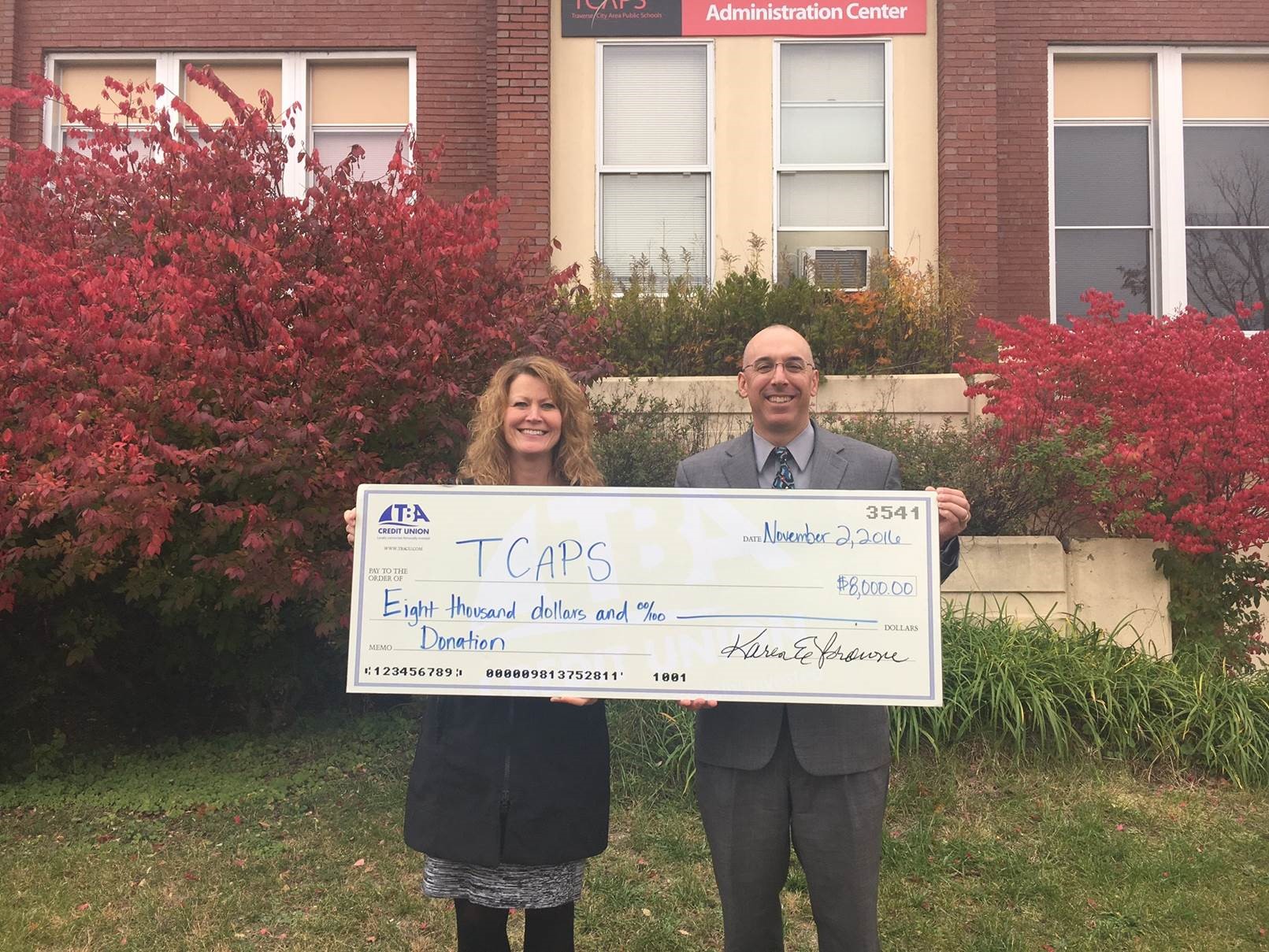 TBACU Supports Education with $8,000 Donation to TCAPS
On Nov. 2, TBA Credit Union (TBACU) donated $8,000 to Traverse City Area Public Schools (TCAPS). The funds will support over 400 educators participating in the Darkness to Light training program.
"TBACU was founded by a group of Traverse City educators in 1955 and we strive to keep education as a focus within our organization," said Karen Browne, CEO at TBACU. "From professional development within our organization to supporting educational programs - we are committed to serving the community and building trusted relationships."
"The safety of our students is our number one priority," said Paul Soma, superintendent of Traverse City Area Public Schools. "Darkness to Light training provides critical information about the steps we can take to prevent, recognize, and react responsibly to the reality of child sexual abuse. TBACU's financial contribution will benefit not only our employees, but each and every student that crosses their paths in our schools every day."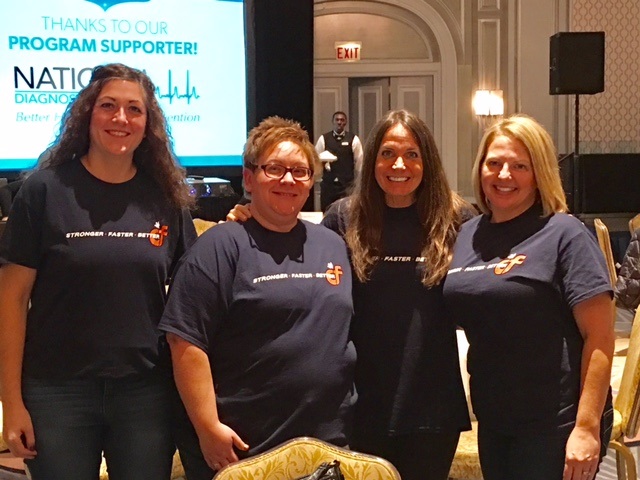 Catholic Federal Named One of Michigan's Best and Brightest in Wellness
Catholic Federal Credit Union was recently named one of Michigan's 2016 Best and Brightest in Wellness. The program celebrates companies that are making their businesses, employees, and communities healthier. The Best and Brightest in Wellness provide yearlong education, benchmarking, assessment tools, and interaction amongst the best employers throughout Michigan.
"We are thrilled to receive this recognition, but finding ways to help our employees be healthy and feel good is the ultimate reward," said Gina Kellogg, Vice President of Human Resources.
Catholic Federal's wellness efforts are led by a committee. The wellness plan has been in place since 2013 and offers a wide range of support and encouragement for employees looking to live a healthier lifestyle at home and in the workplace. Its main focus is on reducing health risk factors while learning, having fun, and serving Catholic Federal's local communities. Some advantages of the wellness program include free fitness workshops, biometric screenings, health assessments, quarterly challenges, and various special events.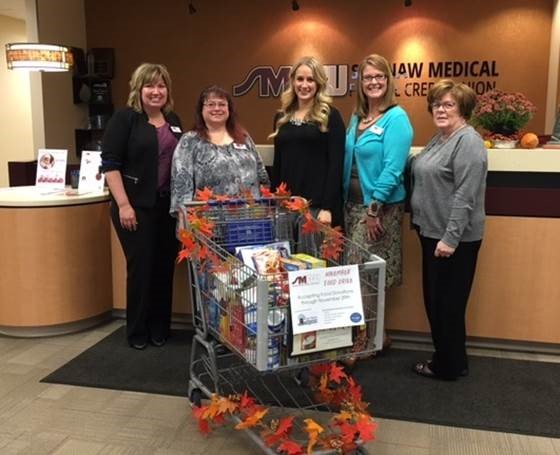 Saginaw Medical Federal Credit Union Holds Food Drive to Benefit City Rescue Mission of Saginaw
Saginaw Medical Federal Credit Union is collecting non-perishable canned and boxed foods for the City Rescue Mission of Saginaw throughout the month of November at both offices. Cash donations will also be accepted.
"We are fortunate to have such a wonderful facility in Saginaw to help local people with food and shelter," said Laura Crase, President/CEO of SMFCU. "We believe in our credit union philosophy of people helping people and we are proud to assist the Saginaw Rescue Mission by providing its residents with food and ultimately the means to get back on track."
The City Rescue Mission of Saginaw is a state of the art emergency shelter providing assistance to the people of mid-Michigan since 1905. Counselors identify services needed with the goal to fully address these needs by assisting them with shelter and the tools to lead them to permanent housing such as, life skills training and employment readiness.
Alpena Alcona Area Credit Union Lincoln Branch Adopts a Highway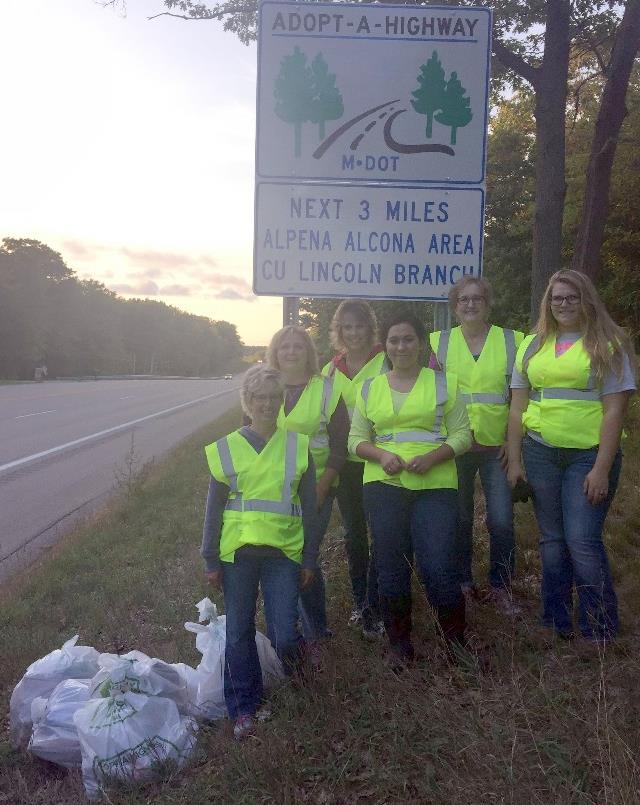 Alpena Alcona Area Credit Union staff members from the Lincoln Office and Tiger Branch students volunteered their time to help keep the community clean.
Team members adopted a three mile stretch along US 23 with the Adopt-A-Highway program picking up trash along the highway and having a little fun bonding as a team.
The team collected many bags of trash and stated they are proud of the community they live in and want to do their part to help keep it clean. The Lincoln team members will head back out this coming spring, summer, and fall to continue to clean up their section of highway.
Education News
...CUNA will present a webinar on how to Identify Interest Rate and Market Risks http://www.cuna.org/Training-And-Events/Webinars,-Audios-And-eSchools/Products/Identify-Interest-Rate-and-Market-Risks-webinar/#Overview on Nov. 17 from 3-4:30 p.m. (ET). Interest rates and yield curves can wreak havoc on the bottom line, but they can also provide great opportunities. Dig deep into how the ever-changing marketplace can affect credit unions, especially the potential for growth. Registration is $219.
...Personal Financial Preparedness http://www.cuna.org/Training-And-Events/Webinars,-Audios-And-eSchools/Products/Personal-Financial-Preparedness-webinar/ is the topic of a Nov. 22 webinar being offered by CUNA from 2-3:30 p.m. (ET). Help members create financial security by gaining an understanding of the importance of personal planning, identity theft and fraud. The session will explore guardianship, wills and power of attorney and how members can make educated decisions on such matters. Registration is $219.
Go to main navigation