Northland Area Earns Top Member Service Award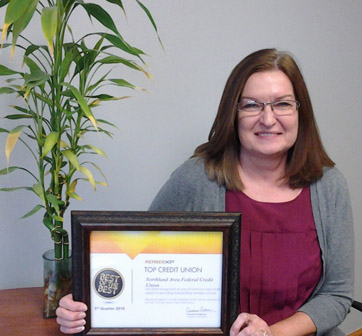 Northland Area Federal Credit Union recently earned a national MX Performance Best of the Best Award for exceptional member service. To qualify, Northland scored among the top three out of 75 high-performing credit unions across the United States.

MX Performance Awards are based on direct member feedback utilizing the MemberShoppers program; the largest credit union-specific mystery shopping program in the U.S. MemberShoppers evaluates credit unions using a combination of professional mystery shoppers and the credit union's own members.

"Northland's high scores show its dedication to improving its members' financial lives by providing exceptional member advocacy and service," said Constance Anderson, founder of Member XP, the company administering the MemberShoppers program. "Northland's performance puts it among the best-of-the-best credit unions for attention to consumer service and demand."

"We are incredibly proud of our staff members," said Northland President and CEO Pete Dzuris. "Their commitment to excellence is clear in everything they do for our members and for our communities. We're fortunate to have such an outstanding team."

Award winners were announced Friday, Nov. 4.
Go to main navigation