MCUL Announce New Grassroots Awards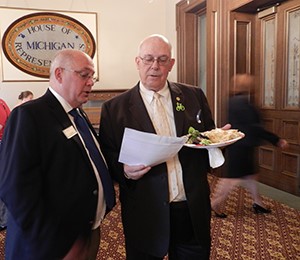 At the 2017 GAC in Lansing, MCUL will unveil two new annual awards. In an effort to honor the political advocacy and decades-spanning credit union leadership of Lon Bone and Howard Spencer, the awards will honor grassroots and PAC activism.
The Howard Spencer Grassroots Volunteer Activist Award and Lon Bone Grassroots Professional Activist Award will recognize a Michigan credit union volunteer and professional, respectively, that exhibits an exceptional commitment to grassroots, political and PAC engagement over a sustained period.
Grassroots advocacy is an essential part of MCUL's legislative and political success at the state and national level, and few credit union champions have been as dedicated as Howard Spencer and Lon Bone. Over their decade-spanning careers, each has cultivated deep and beneficial relationships with a wide variety of public policymakers, been extremely active in promoting grassroots and PAC fundraising programs and gone above and beyond on behalf of the credit union industry throughout their long careers. Both Lon and Howard also served on the MCUL Board and the PAC Trustees for a number of years, along with numerous credit union industry committees and task forces.
The League's GAC will be held in Lansing, April 20, 2017.
Go to main navigation