Have You Signed Up for CU Lunch Local Yet?
What better way support your community than to spend your dollars in your community. Join us in supporting local small businesses on Oct. 18 during International Credit Union Week.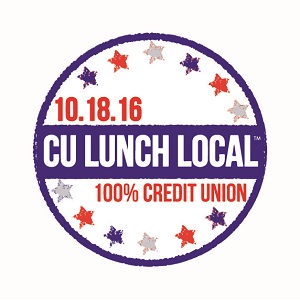 How? It's easy! Pick up the morning round of coffee from your local shop, order lunch in for your team or simply offer treats and beverages to your members purchased from your favorite local bakery to celebrate not only your members, but your local business community. How you choose to participate is up to you and the possibilities are limitless.
Why? It's fun! Get those cameras out, snap some pics, eat some food and most importantly, have fun with your team and members. First, make sure to "like" the CU Lunch Local Facebook page, and share those pictures from the day's events! Use the hashtag #culunchlocal on Facebook, Instagram and Twitter.
This event is growing! In 2015, dozens of credit unions across the United States took part. Coordinated by Jessica Richardson-Isenegger, who helped establish and coordinates the annual event on behalf of Michigan Business Connection (MBC), CU Lunch Local is hoping to sign up even more state leagues and credit unions this year. This event is a perfect way to demonstrate the impact credit unions have on the communities they serve.
Don't forget to sign up for the event. There's no cost involved. Those who sign up can get the official CU Lunch Local logo and recognition from CU Lunch Local organizers.
Go to main navigation