IRA Training and Networking Bring Crowd to Frankenmuth This Week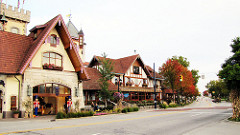 Fall is in the air and the month of Oktoberfest celebrations has arrived, just as more than 130 Michigan CU staffers head to Frankenmuth this week.
New and seasoned credit union staffers who work with Individual Retirement Accounts will be finding IRA basics, getting a refresher or delving into advanced topics at training being hosted by the League at the Bavarian Inn Lodge on Oct. 4 & 5.
Attendees may choose to attend one or both days. Day one covers IRA essentials with exercises to help participants apply information to job-related situations. Day two goes beyond essentials to build on the attendees' knowledge of IRA basics to address some of the more complex IRA issues their credit unions may handle.
Also included at the event is a fall-themed networking activity featuring pretzel making and beer tasting, to provide time for participants to interact and exchange ideas. Those who are registered to attend may click here to opt-in to this optional networking event, which is offered at no additional fee.

Registration for the training is $199 per person, per day. Those interested in attending should call the League at (800) 262-6285, ext. 225.
Go to main navigation