In Brief...
Catholic Federal Credit Union Presents Saginaw Valley State University Community Youth Sports Clinics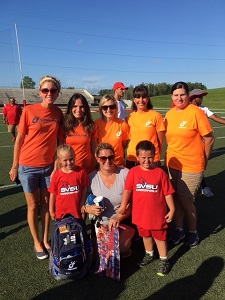 Close to 200 youth were in attendance at Saginaw Valley State University on Aug. 28 for a free 90 minute football Community Youth Sports Clinic that was presented by Catholic Federal Credit Union. This was the first of five free sports clinics that will be offered to boys and girls grades K-8.
The Community Youth Sports Clinics bring families with young children in the Great Lakes Bay Region to the campus of SVSU to engage in the Cardinals Athletics experience. This is the third year that Catholic Federal has sponsored this event.
"Catholic Federal is thrilled to sponsor this NCAA award winning event," Bridget Looby-Staffileno, VP Community Development said. "Kids learn great skills from exceptional coaches and student-athletes. Plus, they and their families are exposed to the university's campus which helps to plant the seed for them to attend college."
Committed to investing in the communities it serves, Catholic Federal staff volunteered over 800 hours of service to local organizations, charities and events last year.

American 1 Credit Union Elects Philip E. Hoffman as New Board Chairman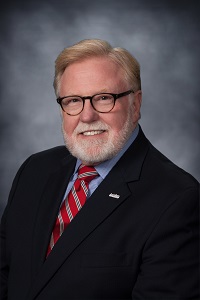 American 1 Credit Union in Jackson elected Philip E. Hoffman of Jackson as Chairman for the Board of Directors at their annual meeting on Aug. 18. The credit union thanked and acknowledged longtime Chairman Al Eichenberg for his service as he transitions to vice-chair on the board.
Eichenberg served as Chairman for 20 years helping lead the growth of American 1. He oversaw the opening of several new branches, a pair of credit union mergers, and a membership increase that now totals over 54,000.
Hoffman joined the American 1 board in 1998 and has served as vice-chair for many of those years. He takes over the Chairmanship as the credit union continues to strengthen financially and expand it's footprint. Hoffman is active in the community, serving on the Jackson College Board of Trustees since 2004, and is a former elected legislator serving as a state representative from 1983-1993 and state senator from 1993-2003.
Also during American 1's annual meeting Bishop Ira Combs, Jr., D.D. was elected as Treasurer, and Jerry Tremaine as Secretary.

Artists' LAFCU Letters Unveiled and Going on the Road

The LAFCU letters continue to entertain thanks to five Michigan artists who were each chosen to paint a letter. The unique 6-foot-tall letters that were turned into works of art were unveiled on July 27, during the Jazz & Blues Concert Series on the Grand.
As part of the mid-Michigan credit union's Art, Growth & Community Series, the letters will appear at LAFCU-sponsored community events throughout the Lansing area the remainder of 2016.
The artists, along with information about their inspiration, are:
Derek Allmendinger, of Lansing, letter "L" – photo shoot of LAFF-E the Cow, LAFCU's mascot.
Sam "Samskee" DeBourbon, of Lansing, letter "A" – "happy color fusion – happy family."
Laura Gajewski, of Portland, letter "F" – vintage REO Flying Cloud advertisements of the 1920s.
Jeremy Coats, of Kalamazoo, letter "C" – growth and community.
Brian Whitfield of Lansing, letter "U" – the two sides of the "U" represent two sides of Lansing: the state capitol and "our home."
"The LAFCU letters have provided yet another way for us to connect with our members and share a little fun and inspiration within the communities LAFCU serves," said Kelli A. Ellsworth Etchison, LAFCU senior vice president of marketing. "Through the creativity of these artists, they have demonstrated the possibilities of when art, growth and community come together."
Opportunities for the public to view the letters include the Jazz & Blues Concert Series On the Grand at the Lansing City Market, Wednesdays and Thursdays, Aug. 24-25 and Sept. 14-15. The artists were chosen based on conceptual designs submitted in response to an open call for entries.

Alpena Alcona Area Credit Union Member Wins $500 with Save to Win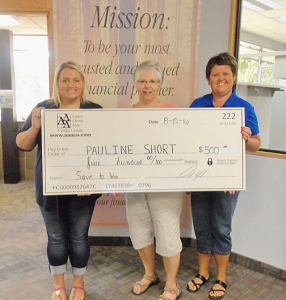 Pauline Short won $500, simply for saving money at Alpena Alcona Area Credit Union. Pauline participates in the Save to Win program, which makes her eligible for prizes ranging from $25 to $5,000 for every $25 deposited in her Save to Win account.
Designed to help low-to-moderate income members build their savings, the Save to Win program has helped more than 16,000 account holders in ten states save over 45 million in 2016. The program allows participating credit union members to make deposits in $25 increments into a special share certificate, where they can earn interest and be automatically entered into monthly and quarterly drawings for chances to win cash prizes.
National Author, Todd Romer, Brings Free Financial Literacy Seminar to WSU/MCC
Half of millennials have a retirement account - only half. And two-thirds have at least one source of long-term debt—mostly student loans, according to the National Financial Capability Study.
With more than 15 years of experience, Todd Romer is doing all he can to educate those in the millennial generation, as well as those in Generation X, to assist them in taking hold of their finances now and make a plan for a healthy financial future.
Romer will be bringing his successful Young Money LIVE! campus event and speaking tour to the Detroit area to present to those interested at two local campuses in September.
The events will take place on:
Mon., Sept. 12 from 4:30-5:30 p.m. at Wayne State University in the Student Center's Hillberry Room D (5221 Gullen Mall, Detroit)
Tues., Sept. 13 from 1-2 p.m. at Macomb Community College's Center Campus in P-Building, Room 129.
This opportunity is being made possible through a collaboration and funding from the Michigan Credit Union Foundation and Extra Credit Union. Credit union members, students, and the public are invited to attend.
Bringing Romer to the Detroit area is part of the effort. With a passion to help young people understand they can master money and truly live out their dreams, Romer wrote a simple, easy-to-understand book that lays out a five-step money plan for millennials and Gen X to follow. Extra CU will be giving out 50 free copies of the book at each of the live events.
Go to main navigation