Visionary, Current Trend, Board Insight and Hot Topics at Fall Conference
Credit union CEOs and volunteers will head to the MCUL & Affiliates Fall Leadership Development Conference soon, where a broad agenda offers a myriad of insights and professional development opportunities.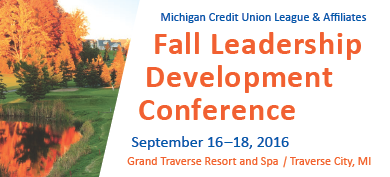 Taking place Sept. 16-18 at the Grand Traverse Resort and Spa, attendees are being drawn to hot topic sessions such as "The DNA of Cybersecurity Risk" where they will hear the latest on credit union cybersecurity trends and common deficiencies, identify what should be in an incident plan and ensure the right policies and procedures are in place to protect members' data.
Other popular topics include "Prove to the Leadership Team: The Grass Isn't Greener Somewhere Else" that will delve into succession planning and the key elements of a real leadership continuity plan, along with "Be a Creative Thinker and Leader!" that explains how the human brain works to help and hinder the decision making process, as well as how to improve lateral thinking abilities (the hardest kind to master).
New guest activities have been added to the Saturday agenda based on feedback from past attendees and onsite pet care is available at the Dog Dreams Inn for those who prefer to travel with their canines.
Go to main navigation