Lessons Learned: Internal Controls, Plus Panel at Executive Summit
Michigan credit union executives will become familiar with the most common credit union loss scenarios, identify key warning signs to look for and learn which checks and balances should be implemented to limit the potential impact from embezzlement at the upcoming MCUL & Affiliates Executive Summit.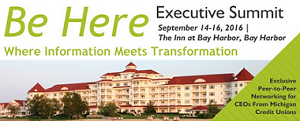 Because employee fraud and dishonesty does not discriminate, credit union CEOs must approach risk and internal controls from every angle regardless of the credit union's size, number of employees or operational complexity. Unfortunately, embezzlement schemes last longer and result in more severe losses than most other risks.
The session will be conducted by Doug Roossien a risk management consultant at CMG and will be followed by a panel discussion including Roossien, MCUL & Affiliates EVP/COO Ken Ross and Attorney Chuck Holzman, as well as John Kolhoff, director of the DIFS Office of Credit Unions and Dan Mahalak from the auditing firm of Cindrich, Mahalak & Co. The panel of experts will bring a variety of perspectives to the table about internal controls and address questions about this industry hot topic.
The Executive Summit takes place Sept. 14-16 at The Inn at Bay Harbor. Those needing assistance with accommodations should contact the League at (800)262.6285 ext. 225.
Go to main navigation