In Brief...
Zeal Credit Union Mourns the Loss of Attorney Brenda Gehringer
Credit union attorney Brenda Gehringer of Butler, Butler and Rowse-Oberle (BBRO) passed away on Aug. 21. She worked at Co-op Services Credit Union, now known as Zeal Credit Union, for almost seven years, beginning in 1996, before moving to BBRO. Gehringer was a frequent speaker for the Credit Union Collection Consortium and a strong advocate of creditor rights. She is survived by her husband Joe Grima and her daughter Mary Kay. She was a University of Michigan undergraduate and earned her law degree from the University of Detroit Law School.

United Federal Credit Union Voted Favorite Financial Institution for Fifth Year
United Federal Credit Union (UFCU) in Niles is proud to announce it has been voted Best of the Best in the bank/credit union category of the annual Leader Publication's Readers' Choice Awards. UFCU also won a second place award in the Best Place to Work category.
More than 860 voters cast ballots for their favorite businesses, service providers, personalities and employers in more than 100 categories of the competition. This is the fifth consecutive year UFCU has received the top distinction in the financial services category, and the second year it has been named a Best Place to Work, having come in third in that category last year.
"I want to thank everyone who voted for United. We appreciate being named the number one financial institution in the area because we work hard to earn our members' trust," said UFCU Midwest Market Vice President James Knight. "It is also gratifying to hear that our employees named us one of the area's best places to work. Both designations reflect our philosophy of putting people first."
UFCU has four branches in southern Berrien County. Two are located in Niles, and there is one each in Buchanan and Berrien Springs.

Alpena Alcona Area Credit Union Staying Active in their Community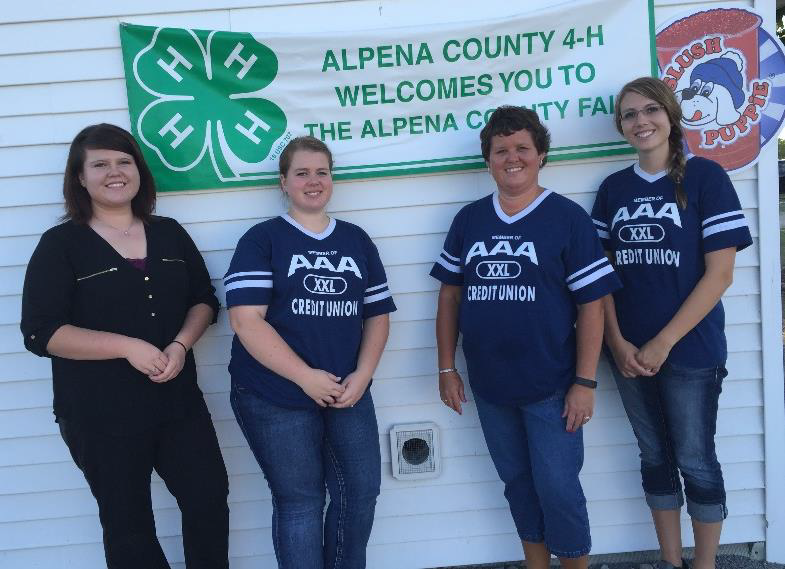 Employees Supporting Alpena 4-H Program: Alpena Alcona Area Credit Union employees donated time during the Alpena County Fair to help raise money for the Alpena 4-H program. During the fair, the 4-H council operates a food booth that 4-H members volunteered to work throughout the week of the fair with all proceeds going directly to the Alpena 4-H program. Funds raised will help support 4-H educational activities for area youth, teaching them leadership and hands on skills in various fields such as agriculture & engineering as well as providing scholarships to 4-H students.

Donated to Child & Family Services of Northeast Michigan: Through the hard work and dedication of its employees and the generosity of its membership, Alpena Alcona Area Credit Union was able to raise money for Child & Family Services of Northeast Michigan. Child & Family Services is a child welfare agency that addresses major community concerns such as child abuse and neglect, juvenile delinquency, the breakdown of family relationships and homelessness while promoting the social and emotional well-being of families and individuals in Northeast Michigan. Along with member donations the Tawas office sold candy bars, held a Valentine's Day Lottery raffle, and donated $2.00 to dress down on Fridays.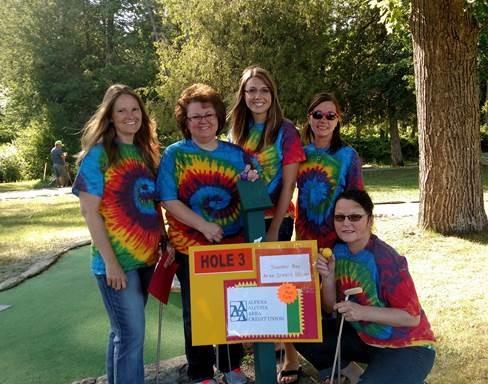 Ossineke Branch Putt-Putt's for Connie's Angels': Alpena Alcona Area Credit Union's Ossineke Branch, the Teed-off Tellers, joined 18 other teams in the 4th annual Putt-Putt Golf Tournament at Ossineke's Dinosaur Gardens. The Putt-Putt Golf Tournament is a fundraiser held by Connie's Angels' Relay for Life team. At this year's event, more than $4,000 was raised through tournament entry fees, 50/50 raffles and community donations. All funds will be donated to Relay for Life to celebrate the lives of those who have battled cancer, to remember loved ones lost, and to fight back against the disease.
Go to main navigation