Lake Trust Credit Union is $10,000 Sponsor at 12th Annual Iron Chef Competition
For the second year in a row, Lake Trust Credit Union in Brighton supported Gleaners Iron Chef as a $10,000 Executive Chef Sponsor and VIP pre-party host, on Thursday, August 11. At this year's event, in an added show of support for Gleaners, Lake Trust presented the Food Bank with a $1,000 donation from a special team fundraiser event they held in collaboration with their headquarters caterer, Sterling Services of Canton.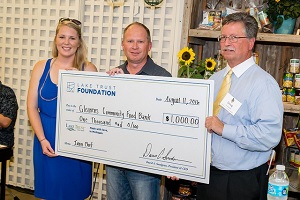 "Gleaners is an organization with a mission that we believe in, and the Iron Chef Competition is a perfect opportunity to show our support and give back to our community," says Lake Trust Credit Union President and CEO, David Snodgrass.
Together with Sterling Services, Lake Trust held the lunch event during their normal workday. Employees donated through buying the lunch entrée, and half of the proceeds, combined with a matched donation from the Lake Trust Foundation, benefited Gleaners Community Food Bank.

"We value our relationship with Lake Trust. Food is our thing, so this is a good way to support the credit union and the community," says Sterling Services Chef, Megan Plonka. For more information on Gleaners Iron Chef, visit their website.
Go to main navigation