United Federal Credit Union Partners with Rival to Raise Funds for Gateway Services
Cross-town rivals went to bat for Gateway Services in a softball battle on Friday, July 29, that left both teams winded, more likely due to laughter than athletic prowess.
United Federal Credit Union (UFCU) took on cross-town rival Honor Credit Union in Gateway Services' A Play for Gateway Softball Tournament at Benton Township's Plannger's Field.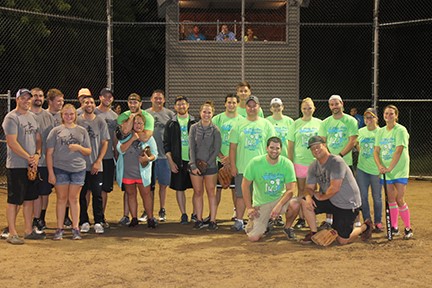 UFCU's Berrien Springs branch manager Zachary Book says it was a fun-filled night, with the game ending in a tie. "Several of us were bribed to wear a skirt while up to bat, and even had to bounce on a bouncy ball from base to base," said Book, who also serves on Gateway's board of directors.
"It was well worth it to raise funds that will benefit the people we serve and help improve their quality of life."
Gateway Services is an organization that provides habilitation and rehabilitation services to people with disabilities, disadvantages and special needs in southwest Michigan.
The tournament is Gateway's main fundraiser each year. This year, 26 corporate teams competed and more than $30,000 was raised. Proceeds will be used to pay for the installation of an elevator at GateWay headquarters in Benton Harbor.
The tournament was UFCU's third time serving as the main sponsor of the event that lasted July 29-31.
Go to main navigation