Hundreds Gather to Watch Dominoes Topple at Zeal Credit Union's Record Breaking Event
Steve Price, lead builder of Zeal Credit Union's Incredible Science Machine: World Edition, announced that the team achieved two major records on July 23. They broke the Guinness World Record for the largest domino circle field with a final count of 76,017 dominoes, and the most dominoes ever toppled in the U.S. with 242,518. The first record awaits official confirmation from Guinness.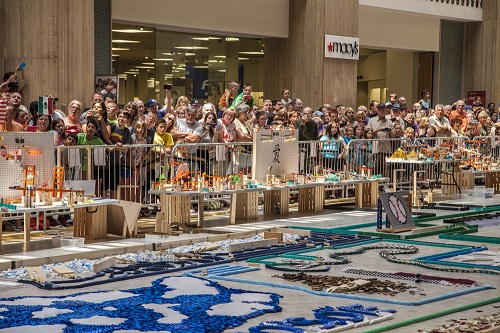 Hundreds of people gathered at Westland Shopping Center to watch the record-breaking event. It took 18 builders, aged 12 to 30, nearly 10 days to set up more than 250,000 dominoes and thousands of other common items.
This is the second year Zeal has supported the chain reaction builders who came to Michigan from throughout the U.S., Canada, Austria and Germany to break new records.
Lisa Fawcett, vice president of marketing for Zeal, is frequently asked what attracted their organization to sponsor the builders.
She says, "It's their passion and hard work. It's who we are and what Zeal is about. The enthusiasm and dedication is something you feel as you watch them work. Ask anyone who attended the event on Saturday. It was breathtaking to watch the excitement build and witness their success."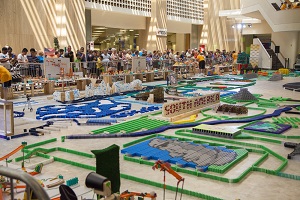 Five-year-old Elliott Clarke of Dearborn Heights started the massive chain reaction that lasted almost 20 minutes. The youngster received the honor after participating in the Chain Reaction Challenge, a social media contest sponsored by Zeal Credit Union, by building and submitting a video of a domino chain reaction he made in his parents' garage to social media with the hashtag #ZealTheLove. His entry was chosen out of nearly 100 entries on Facebook, Twitter and Instagram.
Price, a native of Canton, is a recent graduate of the College of Engineering at Michigan State University. He has created chain reactions for TV shows such as America's Got Talent and The Rachael Ray Show. He now works full time creating chain reaction and domino art for his YouTube channel, Sprice Machines.
The youngest team member is Brady Dolan, is a 12 year old domino builder from Ann Arbor, who has been building dominoes since he was six years old. Owner of 15,000 dominoes, he started his YouTube channel, bpdolesdominoes, in 2011.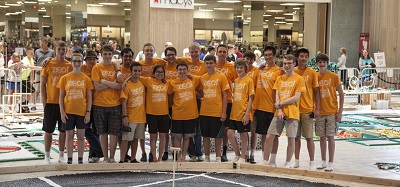 Lily Hevesh, a 17 year old from New Hampshire, is a professional domino artist and among the best known on the web. She currently has over 200 million views and 730,000 subscribers to her YouTube channel, Hevesh5, making her the most subscribed domino artist online.

To learn more about this year's record setting event, visit www.IncredibleScienceMachine.com.
Go to main navigation