Doggone Good Fun Awaits Volunteers at Fall Leadership Development Conference
When the dog days of summer come to an end it will be time to head to the MCUL & Affiliates Fall Leadership Development Conference. Being held Sept. 16-18 at the Grand Traverse Resort and Spa, attendees are being encouraged to bring along donations to the Cherryland Humane Society in Traverse City.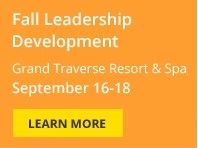 Author David L. Peterson will present the keynote "Anchor Management: Capitalizing on Strategic Leadership and Decision-making Traits" based on his book Grounded. The agenda also boasts informative sessions on cybersecurity, board liability, the Bank Secrecy Act, mergers, internal fraud and compliance topics, making it ideal for volunteers and CEOs.
The event includes plenty of networking opportunities and attendees are encouraged to bring guests, who are welcome to sign-up for meals and an optional off-site wine tasting expedition. The Grand Traverse Resort and Spa offers fabulous amenities and even features the Dog Dreams Inn, an onsite care facility for those who prefer to travel with their canines. Attendees are encouraged to bring a photo of their pet or post an image on Facebook (@CreditUnionEducation) to be entered into an on-site drawing.
Go to main navigation