Destination Compliance; Overview Provided at Executive Summit
During the MCUL & Affiliates Executive Summit, CU Solutions Group's Manager of League System Relations Glory LeDu will provide an executive-level overview of the regulations and laws that are changing at an unprecedented pace to help CEOs keep their credit unions compliant.
The session "Destination Compliance" will not only review recent regulatory changes, but will also highlight the tools and resources available through the League to help credit unions manage the compliance burden.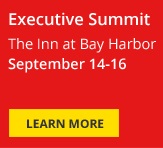 Taking place Sept. 14-16 at the recently updated Inn at Bay Harbor near Petoskey, attendees will find nearly $2 million in renovations that have earned the resort the designation of now being amongst the distinct portfolio of Marriott International Autograph Collection hotels. A limited number of rooms are being held for attendees until Aug. 21 and those interested in going are encouraged to book accommodations now.
The Executive Summit boasts exclusive networking opportunities and one-of-a-kind retreat experiences ideal for Michigan credit union CEOs looking for a change of scenery and some serious think time. Registration is $299 per person for the first three attendees and $250 each for the fourth or additional participants, providing a great opportunity for CEOs to include C-suite executives at the Summit. A guest meal option is also available for those who bring along a guest.
Go to main navigation