Creative Thinking, Networking for Volunteers This Fall
Credit union directors can look forward to learning how the human brain works to help and hinder the decision making process during the "Be a Creative Thinker and Leader!" session taking place at the Fall Leadership Development Conference.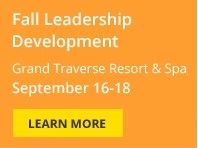 Being facilitated by Renee L. Werth, MCUL & Affiliates' vice president of education and events, attendees will leave with tools to help them improve lateral thinking abilities (the hardest kind to master) and will work in groups to solve problems, discuss ideas and explore new concepts in becoming creative thinkers and leaders.
The conference takes place Sept. 16-18 at the Grand Traverse Resort and Spa, near Traverse City and features valuable networking experiences for credit union leaders. A networking reception, networking breaks, meals and networking dinner, and optional bonus sessions and off-site wine tasting expedition will provide quality time for attendees to interact. Additionally, participants may choose from a new session format titled, "I Just Want to Network" where peers may gather at the Sweetwater Grill to engage in conversations of their choosing.
More than 130 attendees are already registered for the event and now is the time to sign-up and book accommodations. Registration is $399 per person for the first four attendees; five or more are $350 per person.
Go to main navigation