Lessons Learned: Internal Controls Topic at Executive Summit
Several dozen Michigan credit union CEOs are already registered to attend the 2016 Executive Summit and now is the time to book accommodations for the best selection of room options.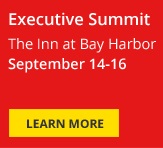 Known for its outstanding networking experiences and birdseye executive-level agenda, this year the event includes the session "Lessons Learned: Internal Controls" that will discuss the most common credit union loss scenarios and identify key warning signs.
As employee fraud and dishonesty does not discriminate, credit union CEOs must approach risk and internal controls from every angle regardless of a credit union's size, number of employees or operational complexity. The session will be followed by a Q&A panel discussion facilitated by Ken Ross, MCUL & Affiliates EVP/COO and other experts including John Kolhoff, director of the DIFS Office of Credit Unions.
The Executive Summit takes place Sept. 14-16 at the Inn at Bay Harbor near Petoskey. Registration is $299 per person and guest meal options are available.
Go to main navigation