MCUL Events Bring in Renowned Industry Speakers
This fall, the Michigan Credit Union League & Affiliates' People and Performance Institute is presenting "Intentional CU Leadership"--an event that brings together three renowned industry speakers to deliver quick presentations in the morning, and then engage attendees to follow one of them to spend the balance of the day mapping out an Individual Development Plan.
Tim Harrington, Kevin Smith and Mark Arnold -- all outstanding leaders in the credit union industry -- will be working with participants on: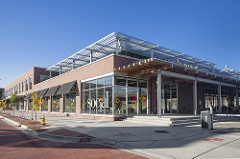 Five Habits of the Most Productive Leaders
Change Agent Leadership
Transformational Leadership: Morphing Into a Mentor
Intentional CU Leadership will take managers and supervisors from just being busy with what they do, to being purposeful with all they do. It is an opportunity to become an admired leader by those they work for, work with and work to inspire.
The event is offering attendees a lot of flexibility and customization -- from the hotel where they stay, to the food that they choose to eat, to what they accomplish and take-away. It's even being offered in a non-traditional learning space, at the amazing Downtown Market Grand Rapids in Western Michigan, and takes place Sept. 28 with a pre-event activity the evening of Sept. 27.
This event will provide leadership enrichment for the best, and for those who want to become even better. It's ideal for those who want to keep their careers moving forward, regardless of where they are on the leadership continuum.
As the world become more complex, now is the time to prepare credit union leaders to deal with tougher and tougher issues that they face.
Learn more, register today and share the news with colleagues. Registration is just $399 per person.
Go to main navigation