Run, Don't Walk, to Nominate Your Credit Union!
MCUL & Affiliates and CUNA are working together to recognize the ways credit unions support their communities and members through the 2016 CUNA awards. These awards showcase all of the great accomplishments and hard work employees have invested into our cities and state.

Credit unions can submit entries for an Adult or Youth Desjardins Financial Education Award, a Dora Maxwell Social Responsibility Award or a Louise Herring Philosophy-in-Action Award. All awards are available in categories ranging from less than $50 million to more than $1 billion in assets. The criteria for the awards is as follows:
Louise Herring Award - The purpose of this award is to promote credit union philosophy by formally recognizing credit unions that demonstrate a practical application of that philosophy in an extraordinary way for their members
Dora Maxwell Award - The purpose of this is award is to promote social responsibility among credit unions by formally recognizing their community service achievements
Alphonse Desjardins Award - This award honors leadership within the credit union movement on behalf of youth and adult financial literacy
In 2015, Saginaw Medical Federal Credit Union (SMFCU) won first place for the Dora Maxwell Social Responsibility Award in the $100-$200 million asset category for reinvesting in their community. This award recognized them for their outreach efforts to strengthen, support and improve the lives of its local community through charitable projects.
SMFCU saw a need for children in foster care in their area, and wanted them to have something to call their very own. Their Cases for Kids program collected 157 suitcases, backpacks and carry-all bags for children caught in the court system. These donations give children the ability to carry their belongings from foster care to their foster home. In addition, members from both offices donated funds to help these children in need.
"Our hope is that this will make the lives of children in foster care just a little easier," said Laura Crase, SMFCU CEO.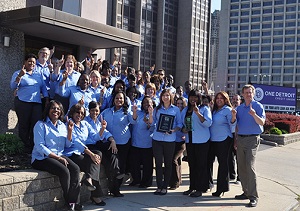 One Detroit Credit Union received national recognition with a 2015 Louise Herring Philosophy-in-Action Award. Their program provides 0% interest home-rehabilitation loans to Detroit residents. CEO Hank Hubbard explained that the program offers home rehabilitation loans to Detroit residents who otherwise might not be able to qualify—including those with credit scores in the mid-500s—and offers up to 150% loan-to-value.
"We're able to fill a market gap where people that live in the city of Detroit with plunging home values and low incomes can't really afford to fix up their homes," he said. "The mayor wanted us to do something about that, so we are part of a group of many, many different stakeholders to make this a reality."
Receiving national recognition from CUNA is a big deal to One Detroit, said Hubbard, but he added that he hopes it can be a catalyst for more innovative programs out of Michigan-based credit unions.

CUNA awards submissions are open now through July 22, 2016. Enter your credit union today! Details and online submission information is available here.
Go to main navigation