In Brief...
Volunteers Wanted: State-chartered Credit Unions--Bylaw Working Group

In preparation for a review and update to DIFS sample bylaws for state-chartered credit unions, the MCUL is looking for volunteers who would like to serve as part of a working group. With the recent changes to the Michigan Credit Union Act it is necessary to update and modernize the bylaws to better reflect the needs and operations of Michigan credit unions. If you are interested in participating in the working group please contact Vice President of Government Affairs, Kirk Hanna.

Northland Area FCU's New Loan Production Office Raises Funds for Charity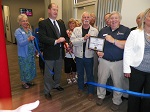 Northland Area FCU was delighted to celebrate the grand opening of Lending Center, the credit union's new loan production office, on June 15 in downtown Alpena. To mark the occasion, they partnered with Nowicki's Sausage Shoppe and held a bratwurst-by-donation fundraiser for St. Bernard's Friendship Room.

The Friendship Room, also known as the Soup Kitchen, provides hot meals Mon.-Fri from 4:00-5:30 p.m. and Sat. 2:30-4:00 p.m. The Room is open to the public, and anyone requesting a meal will be fed at no charge or questions asked. Additionally, the Friendship Room provides clothing and personal supplies to community members in need. Randy MacAulay, director of the Friendship Room, stated that there are around 240 volunteers who help run overall operations that feed around 90 people per night and 2,500 people per month.

Northland Area FCU helped contribute and raise $786 in monetary donations and roughly $100 in additional supplies during the two hour event.

North Central Area Credit Union Hosts CU Baseball & Softball Tournament
North Central Area Credit Union hosted their inaugural "Around the Bases" Varsity Baseball/Softball Tournament on May 21 with teams from each of their four branch locations competing for the Championship Trophy. The one-day event served as a fundraiser for the high school teams and raised $2,225. Local radio stations carried the Championship games giving air time to these often overlooked high school teams. The weather was perfect and the community came out and supported the kids. It was a fantastic event and a really fun way to for the credit union to reinvest in their communities all at one time.

Washtenaw Federal Credit Union's "Fill A FORD for KIDS" Campaign Supports HOPE Clinic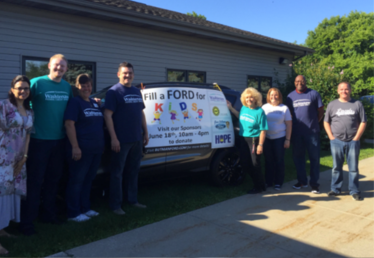 Washtenaw Federal Credit Union in Ypsilanti recently decided to partner with Gene Butman Ford and the UAW Local 898 chapter to create the "Fill A FORD for KIDS" campaign supporting the HOPE Clinic in their community. WFCU recognizes the important role that Hope Clinic has in the Ypsilanti Community and wanted to help create a charity drive to collect donations for the clinic. Gene Butman Ford generously offered to place vehicles at the credit union and throughout the community so residents and supporters could drop off their donations and "Fill A FORD for KIDS"! WFCU staff and members began collecting donations early in June. Then, volunteers from each organization helped collect donations at various locations throughout the community on June 18.

Kellogg Community Credit Union's Red Nose for Kids Collection a Success
Kellogg Community Credit Union (KCCU) held its second annual Red Nose for Kids collection. Red Nose Day is "a special day to have fun, come together and make a difference for kids who need our help the most - here in the US and around the world," as stated on the Red Nose Day website.
KCCU asked their team members, and members of the community, to bring kid-friendly food items-as well as monetary donations-to any of their branch locations throughout the collection dates. Anyone who donated could receive a red nose in exchange for their food or monetary donation. All of the food and monies collected will go to the Food Bank of South Central Michigan to help children in the communities which KCCU serves from going hungry this summer.
Go to main navigation