Take Your In-School Branches and Youth Programs to the Next Level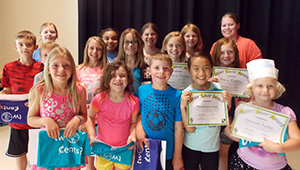 Has your credit union been looking for new ideas to revamp your in-school branches, youth accounts or youth and family marketing program? Do you want to infuse your school programs with new energy and new resources? The 2016 NYIB conference might just be the place for you.
The 2016 National Youth Involvement Board (NYIB) conference is being held July 26-29 in San Antonio, Texas. The NYIB is a national credit union network made up of CU professionals who are involved with in-school branches, financial education, youth marketing and financial reality fairs. The annual conference features dedicated sessions for each of these topics. Attendees will take away key ideas to help develop or freshen up their programs, and will get a chance to network and share their own expertise.
Andrea Tucker, Financial Education Coordinator at Marshall Community Credit Union, shares, "We had a student-run branch program that was operating pretty well before I came to my first NYIB. However, since going to the NYIB conferences, I've been able to incorporate a ton of new ideas, options, add-ons, etc. It's really grown since attending my first conference in 2012. I was also able to implement a successful financial presentation program, which is part of our student-run credit union branch program. This included creating age/grade level appropriate presentations on a variety of financial topics including saving, budgeting, checking accounts, credit vs. debit, interest rates and more! Our presentation program is now utilized by teachers in over 8 community schools in our area!"
The annual conference also features the annual business meeting, and an awards ceremony which recognizes the top individuals and credit unions in financial education (based on reported presentations). The NYIB also hosts a listserv, and a platform for reporting financial education presentations made to youth, as well as the number of in-school branches each credit union has.
Check out the agenda, find out more information and register for the conference here.
Go to main navigation