MCUL Names New Board Chairperson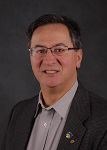 Lansing, MI (June 22, 2016) – Gerber Federal Credit Union CEO John Buckley was named the Michigan Credit Union League and Affiliates Board Chairman at the MCUL Annual Convention & Exposition on June 10 in Detroit.
Buckley has a long history of service to the Michigan credit union industry through his past roles as a MCUL board member and treasurer.
Buckley, who was appointed CEO at Gerber FCU in 2006, has exhibited a strong passion for furthering the credit union mission.
His efforts include chairing MCUL's league audit committee, serving as a council member for the CFPB's credit union advisory council, and receiving an award from the CUNA HR/TD Council recognizing excellence in employee engagement.
Buckley replaces Zeal Credit Union CEO Tony Carnarvon who served as board chair since 2014.
Go to main navigation