Gov. Snyder Signs Michigan Credit Union Act Update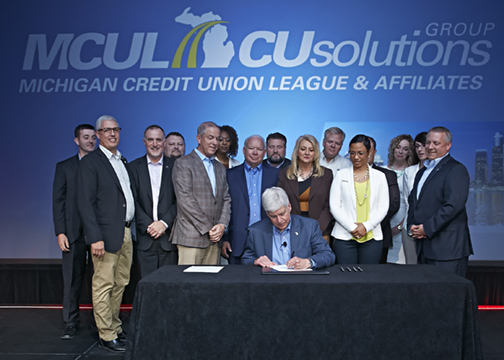 Detroit, MI (June 9, 2016) From the main stage at the Michigan Credit Union League and CU Solutions Group's Annual Convention & Exposition, Gov. Rick Snyder today signed into law the first comprehensive update to the Michigan Credit Union Act in 13 years.
Before a crowd of nearly 1,000 people, Snyder signed the six-bill package into law flanked by representatives from the league, Michigan's Department of Insurance and Financial Services and a variety of other credit union supporters.
This marks Snyder's third visit to AC&E during his five years in office so far, and he commended the credit union movement for being partners in helping to boost employment in Michigan, increasing the number of people in the labor force and raising personal income growth.
Here's what the statute does for Michigan credit unions:
Eliminates cap on fixed assets for strongly capitalized credit unions
Protects against enforcement of examiner "best practices"
Creates the Credit Union Regulatory Fund, which protects state exam fees
Allows ability to offer loan promotions and provide prize incentives for refinancing loans
Reduces number of required board meetings to 6 times a year
Allows anyone to serve as a co-signer, co-borrower or guarantor of a loan
Permits pre-payment penalties for commercial loans
More information on the updated act is available at mcul.org.
Go to main navigation