Gov. Snyder Signs Michigan Credit Union Act Update into Law at AC&E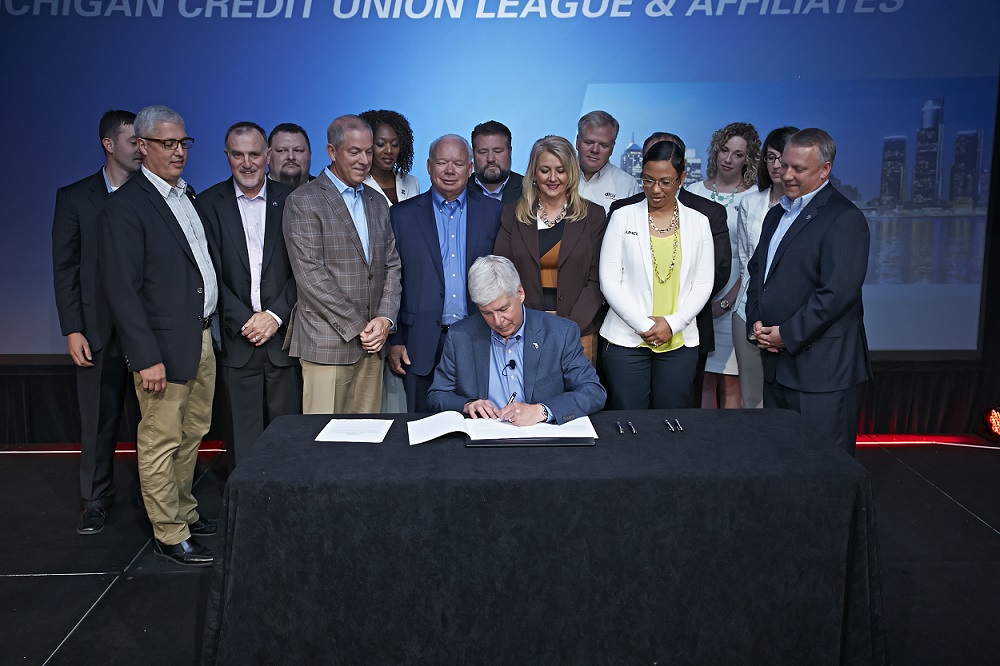 DETROIT—From the main stage at MCUL and CUSG's Annual Convention & Exposition, Gov. Rick Snyder today signed into law the first comprehensive update to the Michigan Credit Union Act in 13 years.
Before a crowd of nearly 1,000 people, Snyder signed the six-bill package into law flanked by representatives from the league, Michigan's Department of Insurance and Financial Services and a variety of other credit union supporters.
This marks Snyder's third visit to AC&E during his five years in office so far, and he commended the credit union movement for being partners in helping to boost employment in Michigan, increasing the number of people in the labor force and raising personal income growth.
Snyder outlined three commissions he hopes to introduce. The first, he said, focuses on infrastructure improvement—not just roads and water systems, but improving access to broadband internet service. Another is aimed at transforming the auto industry into a "mobility industry" with an emphasis on new technologies like smart cars and autonomous vehicles.
A third commission will be focused on education, with a focus on lifelong learning, and Snyder thanked credit unions for their financial education efforts—an area he said he is particularly passionate about.
Snyder thanked Michigan credit unions for their partnership and their leadership and said that the movement can continue to play a role in improving Michiganders' lives as long as credit unions continue to be willing to listen to their members and focus on providing solutions.
Go to main navigation