CUSG's Partner Co-Op Announces New CEO of Co-Op Financial Services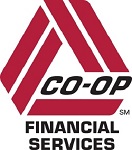 Todd Clark will become the new President/CEO of CO-OP Financial Services effective June 27, according to Jeff Napper, Chairman of the Board of Directors of CO-OP, succeeding the retiring Stan Hollen.
"After a nationwide search, the Board of Directors is delighted to report that Todd will be leading the industry's largest credit union service organization in terms of credit unions and members served," said Napper. "We are confident he will build upon the strong growth and accomplishments of Stan over the past 11 years. Todd's extensive 25 years of experience as a proven and well-respected leader in the payments systems industry will benefit and serve credit unions well for many years to come."
Clark served most recently as SVP/Head of STAR Network and Debit Processing for First Data Corporation, where he had full profit and loss responsibility for the EFT Group. In this capacity, he led a team of more than 600 product, strategy, communications, strategic sales, technology, operations and support personnel. Prior to First Data, Clark was an executive with Cardtronics, Inc., and also served in a prior capacity at First Data from 1991 to 2012.
For more information on CO-OP Financial Services, visit here.
Go to main navigation