Alpena Alcona Area Credit Union Receives Award for Social Responsibility and Recognition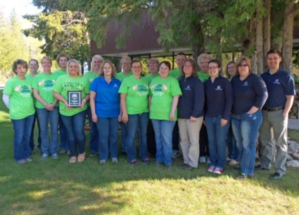 Alpena Alcona Area Credit Union (AAACU) was awarded a 2nd Place Dora Maxwell Social Responsibility and Recognition Award for their tremendous teamwork fundraising for The Salvation Army.
The Dora Maxwell Social Responsibility Recognition Program was established to encourage credit union and chapter involvement in community projects and activities. The award acknowledges the exceptional community contribution and charitable works of a credit union. The judges look at the involvement of staff, at all levels of employment, as well as the amount of funds raised.
AAACU's 2nd Place winning entry for the Dora Maxwell Award took the form in written essays, photos, and press releases detailing the various activities the credit union participated in to raise funds for The Salvation Army.
Through the hard work of its employees and the generosity of its membership, AAACU was able to raise more than $5,000 for The Salvation Army. Each branch of AAACU organized many different fundraisers to raise money for the organization. Candy Bars were sold at teller windows, and staff could donate $2.00 on Fridays to dress down in jeans.
Go to main navigation