In Brief...
MCCU Supports March of Dimes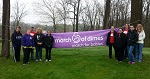 Marshall Community Credit Union was a Silver Sponsor at this year's March of Dimes, March for Babies event at Binder Park Zoo on Sunday, May 1. Fourteen MCCU employees, along with many family members and friends, participated in the walk.
March for Babies is an annual event held to support March of Dimes research and programs that help expecting mothers have full-term pregnancies and babies begin healthy lives. In addition to participating in the walk, MCCU representatives worked tirelessly to raise money for the cause–fundraisers included selling March of Dimes stuffed animals, collecting change at the teller lines, staff jean days, as well as team members working to raise money through their own initiatives. In all, Team MCCU raised more than $5,200.
Honor Credit Union Announces the 4th Annual Video Challenge Winners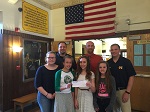 Honor Credit Union's 4th Annual Video Challenge results are in. Winning the $3,000 first place prize with a video showing how Honor has contributed to their community was Negaunee Middle School. A second place prize of $1,000 went to Riverside Hagar School #6 with a video demonstrating all of Honor CU's community support programs with kids. A third place prize of $500 went to the Mattawan Schools for demonstrating how kindness in the community is seen as a financial institution. Honor CU also awarded a $100 honorable mention award to Marquette Schools.
All videos are posted on Honor CU's YouTube site. To be eligible to win, all videos submitted were to highlight "Honor Credit Union In the Community!" theme showcasing Honor CU's commitment to serving their communities. The videos also had to be created, filmed, and edited by the schools and students themselves to be considered. Supporting the communities, youth and educational systems remains a focus of Honor CU, and the Annual Video Challenge is a great example of that focus.


TLC Community Credit Union Awards Scholarships to Local Youth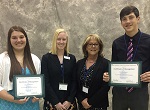 TLC Community Credit Union recently awarded two $1,000 scholarships. Morgan Monahan is a graduate of Tecumseh High School and a Sophomore at the University of Toledo studying exercise science.
Colin Anschuetz is a 2016 graduate of Madison High School and will be attending the University of Michigan majoring in business and economics.
The scholarships were awarded based on the student's leadership essay submission, as well as academic performance, commitment to service through volunteer efforts and school activities.
The U of M Credit Union Raises Donations with Heart Walk Event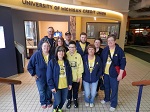 University of Michigan Credit Union (UMCU) is taking a stand against heart disease and stroke. Thanks to the generous hearts of its members and team members, Team UMCU has raised more than $5,100 for the American Heart Association (AHA).
In addition to walking in Washtenaw and Genesee County AHA events, Team UMCU has also been collecting donations by selling heart stickers, taking online donations, and holding a charity night at a local restaurant.
"We were so excited to partner with the University of Michigan in this fight against heart disease and stroke," said Harriet Hughes, AVP of Community Relations. "Our team and our members are truly amazing."
Vibe Credit Union Named High Performer in Member Service
MemberShoppers, the nation's largest credit union-specific mystery shopping program, has named Vibe Credit Union as one of its highest performers in member service for the first quarter of 2016. Vibe CU outperformed its peers by earning one of the top three positions in 6 out of 18 categories.
Of more than 70 high performing credit unions across the United States, Vibe CU led their member service scores that were tabulated based on how their own members and professional mystery shoppers ranked the credit union. Vibe CU has proven to provide exceptional member service in categories such as top tangible score, top reliability and accuracy score and top exceptional experience score.
"We are proud of this accomplishment as this speaks to our brand pillar of Amazing Service Connection," said Tyler Ross, CMO. "It shows that our employees are engaged and committed to the credit union philosophy of 'people helping people.'"
Go to main navigation