AC&E Preview: Growing Up With AC&E
With insightful keynote addresses, informative breakout sessions and top-notch entertainment, there's plenty to see and do at MCUL and CUSG's Annual Convention and Exposition (AC&E). But there's one thing you don't see much of—children.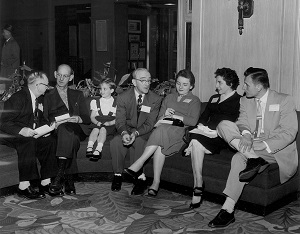 Nova Schleicher, seen here at age 5, attended the 1956 MCUL Annual Meeting with her father, Dave Arsenault (not pictured). Nova was a regular attendee of regional and national credit union meetings throughout her childhood.
While kids are welcome at AC&E, they're a rare sight, and that was as true 60 years ago as it is today. Nova Schleicher was just five years old when she attended the 1956 Annual Meeting and Exhibition with her father, and she was one of just a few youngsters who attended the event each year. Her father, Dave Arsenault, was a founding member of Wyandotte CU, which served employees of Wyandotte Chemical. During his career, he also held a number of key positions with MCUL, and Schleicher said that attending credit union meetings and conferences was a regular part of her childhood.
"I went to all the meetings," she recalled. "The Michigan conventions were in Grand Rapids one year and Detroit the next, and all my life, I went to those meetings. We went to national meetings in Colorado, Los Angeles and Boston, too, so I knew credit union people from all over the U.S."
Arsenault served as director secretary and national director for the MCUL board, and Schleicher recalled him as holding a deep commitment to the credit union movement.
"The people in the community called him 'Uncle Dave,'" she said, noting that it wasn't unusual for him to open up the credit union on weekends in order to make loans to members in need. He was even willing to offer advice to those in the for-profit banking sector.
Wyandotte merged into Community Choice CU a few years ago, but before the merger, Schleicher spent five years on Wyandotte's supervisory committee and another six years on the board. Having grown up in the movement and been a credit union member her whole life, Schleicher said credit unions in those days were very much like a family. And the annual meetings were about as kid-friendly as you'd expect.
"There were times I wished my dad would cut his speech a little short," she recalled. "I do remember drawing on a lot of placemats."
This story originally appeared in Contact magazine.
Go to main navigation