AC&E Preview: Why AC&E Is So Much More Than Just a Meeting
How can an event that's been taking place for decades be so exciting and keep attendees coming back year after year? One word: Reinvention.
Just as Michigan's credit unions have reinvented themselves time and again over the years in order to better serve each generation of members,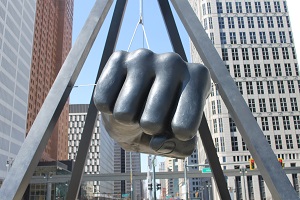 so too does the Annual Convention and Exposition (AC&E) from the Michigan Credit Union League (MCUL) and CU Solutions Group (CUSG).
This year will mark 30 years since Greg Gurka began attending AC&E, and the East Traverse Catholic FCU CEO pointed out that he's been a regular since the days when the event was still known as the MCUL Annual Meeting and Exhibition.
Gurka said that even after so many years, AC&E still serves a purpose for him—particularly the speakers.
"The speakers are always good and the content is always up-to-date and worthwhile," he said.
Gurka, like many others interviewed for this story, said that being a part of such a large gathering of credit union professionals helps to inspire him.
"I have used connections [from AC&E] all the way back to 1985 to solve problems and further my career," he said. "When you go there, you have a cross-cut of people new to the industry and old dogs that have been there forever and go back to the beginnings of time with the credit union movement. There's a vast wealth of knowledge those people have been able to share with me over dinner or a drink. The knowledge you can pull from those people and those different areas fills such a gap in what we need."
He always finds himself recharged and reinvigorated about the credit union movement after coming back to work from the annual event—and he's hoping some of that enthusiasm is contagious, because he's bringing some of his staff with him this year.
"If you're just staying in the office, you get tunnel vision," he said.
"You go to all the vendors at AC&E and you speak to people and you hear things and you just get enthused."
Credit Union Connections
For many longtime AC&E attendees, one of the greatest benefits of the conference is the fact that it's simply the largest annual gathering in Michigan's credit union community.
"You get a chance to have deeper conversations with people from the league and at the state level that you don't really get a chance to have on a daily basis," explained Michael Poulos, CEO of Lathrup Village-based Michigan First CU. "There's value in the instruction and the speakers the league brings in as well, but a lot of the value lies in getting to see and talk with people you really haven't seen very often during the year. The time for extended conversations is very helpful."
Dean Trudeau, CEO of Public Service CU (PSCU) in Romulus, estimated that he's attended AC&E at least 20 times. So why does he keep coming back?
"I love the camaraderie with other credit unions," he said. "I think we work in the greatest industry with people who really care about their coworkers and even the competition. I know that if I need something from another credit union, they'd be there in a heartbeat to get me a policy or strategies that might work for me. So the camaraderie is one huge reason I go."
Hank Hubbard, CEO of One Detroit CU, said the event serves as an annual reminder of the collective brain power and capacity for innovation within the movement.
"I always enjoy hearing what the award winners did to earn their awards, because that means that they're doing something that's really different and exceptional, and that tends to inspire me," he said. "I'm there to listen to what people are doing in the industry that's sort of groundbreaking."
He'll have no shortage of opportunities at this year's AC&E.
The 2016 award winners include an Upper Peninsula credit union that experienced 78 percent loan growth over the course of five years, a chapter so committed to advocacy that it brought a busload of its members to Lansing to meet with legislators, a credit union that developed an innovative payday alternative loan product and much more. Plus, this issue of Contact features an exclusive interview with MCUL's Young Professional of the Year (see related story).
AC&E Sessions
Kathie Trembath, CEO at Detroit's Diversified Members CU, also called the networking a highlight of the conference, but added that "Usually the opening keynote is very, very good."
That will no doubt be the case again this year. Delivering one of this year's keynote addresses will be Alex Sheen, founder of "Because I Said I Would," a social movement and nonprofit dedicated to the betterment of humanity. In his remarks, Sheen will address how the movement supports and encourages making and keeping promises, and how his group is helping hold people accountable for their commitments.
And Sheen's keynote is just the beginning. Among the other distinguished speakers addressing the convention will be Kurt David, a former professional athlete, author and television host who will speak about leadership and teamwork during the CUES Networking Luncheon on June 11 (see related story). Longtime credit union leader Jim Kasch will also help clue credit union professionals in on how to better deepen their existing relationships with young members—and how to attract the next generation of members to the credit union—during a session titled "Attract, Serve and Retain Millennials: More Than Delivery Channels and Social Media" (see related story).
With economic uncertainty still the norm, the Economic Issues Luncheon on Thursday, June 9, will likely be a hot ticket. The lunchtime address will feature Michigan State University economics professor Dr. Charles Ballard discussing the challenges Michigan faces in the wake of the financial crisis, and how policies can brighten the state and nation's economic future.
This year's AC&E also marks the debut of a new feature that lets credit union professionals hear from speakers addressing a wide variety of topics.
During the breakout sessions on Friday, June 10, a series of speakers will take part in "Ignite Sessions," five-minute presentations backed by fast-moving visuals that aim to enlighten and entertain.
Rather than focusing exclusively on credit union-related topics, the Ignite speeches— modeled after the popular TED Talks series—aim to capitalize on the diverse backgrounds and personal experiences that make up the credit union community.
Speakers may address their passions, causes they believe in deeply, meaningful moments from their personal lives or countless other subjects. And with the mantra of "Enlighten us, but make it quick," these sessions are sure to be one of AC&E's most talked about events.
Introducing Detroit—Again
It's been three years since the AC&E was in Detroit, and to say that the city has changed in that time would be a massive understatement.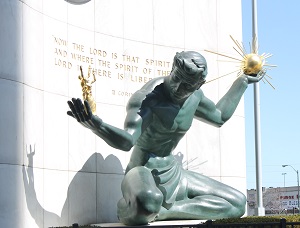 PSCU's Trudeau said that AC&E "is happening at a great time for the city and it may really open up some [outsiders'] eyes to the resurgence of the city. I'm excited about that."
Similarly, One Detroit's Hubbard said that the event offers attendees the chance to hobnob and explore the city.
"Even my best friends in the industry, we just don't take enough time to have lunch or have a drink after work," he said. "The AC&E allows for that. It's my hope that this year in Detroit we are able to go off in small groups and experiment with the countless new restaurants and bars in the city. I hope that people will get off the reservation a bit with some of their peers and share in some new experiences."
For more information or to register, visit 2016ace.mcul.org.
This story originally appeared in Contact magazine.
Go to main navigation