AC&E Preview: Detroit Bounces Back Thanks to Credit Unions
After decades of population decline, credit union executives are optimistic about the positive impacts they might see thanks to a revitalized Detroit.
"There are some challenges, but Detroit is growing," said Kathie Trembath, CEO of Detroit's Diversified Members CU (DMCU). "We have a lot of the young Millennials moving back to the downtown area, to the Midtown area, to Corktown, and there is just so much opportunity now."
While Trembath said her credit union has seen a change as Detroit's population rebounds, she and others say they haven't quite seen the revitalization they're hoping for, including boosts in Millennial members. But they are confident it will come.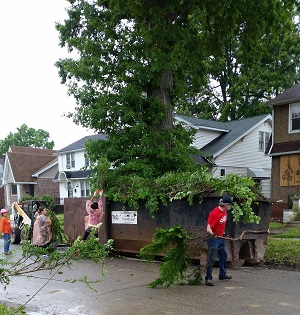 Credit union staffers--including Hank Hubbard, right--help clear away urban blight in East Detroit as part of a Habitat for Humanity initiative.
Hank Hubbard, CEO of One Detroit CU, said that his credit union is focused on members living in Detroit's neighborhoods rather than in the downtown districts seeing the bulk of the revitalization, and said that until the city's tax base expands and city services improve, it may take a while for the benefits to filter down to his membership.
Hubbard is well known as an enthusiastic booster for the Motor City, but he admits that operating a credit union there can be a struggle.
"Our credit union has changed quite a bit," he said. "We went from being sort of a mainstream credit union for working class people back in the '90s to the community development credit union that we are now because the needs of the people that we were serving changed."
Returning to Credit Union Roots
One factor that contributed to that change, he explained, was a massive labor strike in the newspaper industry during the 1990s in which newspaper owners hired non-union workers to replace striking union employees. Those new employees, many of whom had been out of work and had shaky credit, all qualified for membership.
The membership, said Hubbard, "went from being 'boys with their toys' to low-income, low assets, very shaky credit, and it was a bit of an eye-opener for us."
After that, the credit union created products and services to better serve that demographic, and Hubbard described it as feeling like returning to the roots of the movement.
"The more we did it," he said, "the more we bought into it and got excited about it…We feel pretty proud of ourselves because we're really designing our products and services to help people who are left out of the financial mainstream."
The product Hubbard is most pleased about is an Auto Bailout Loan, which refinances high-interest loans at half the rate that members were previously paying.
"The maximum rate for a car loan in Michigan is 25%, and it would blow you away how many people are paying that," he said, adding that the credit union is able to reduce people's interest rates by an average of 9%.
Similarly, Diversified Members also periodically offers a no-credit-check loan to help members who otherwise wouldn't qualify for a loan and might have to resort to higher-priced lenders. DMCU has also recently gotten involved with Project 14, an attempt to get more police officers to live within the city, and is working on programs with the Detroit Land Bank as well.
New Tech for a New Generation
Public Service CU (PSCU) relocated to Romulus after September 11, 2001, when new security restrictions made it more difficult for members to access public buildings, but the credit union still has a few branches in the city. CEO Dean Trudeau said that while PSCU can't offer the convenience of drive-up windows because all of its branches are inside of office buildings, it is examining ways to utilize new technology that appeals to Detroit's changing demographics.
"One of the things we're looking into now are remote teller units, because I think that younger market is not afraid of that," he said, adding that PSCU is exploring the possibility of adding a fully electronic 24-hour branch someplace like the Millender Center or the Renaissance Center.
"In the Millender Center, there are apartments that attract younger people, so we're looking at how can we [set up] a 24-hour location in the near future," said Trudeau. "I don't know if we'll pull it off, but we're at least exploring it."
This story originally appeared in Contact magazine.
Go to main navigation