AC&E Preview: This Summer, Come Back to America's Comeback City
The Renaissance Center in downtown Detroit
The message from entrepreneurs and credit union CEOs is clear: If you haven't seen Detroit lately, you haven't seen Detroit at all.
With MCUL and CUSG's Annual Convention and Exposition (AC&E) headed for the Motor City June 9–11, there will be plenty of opportunities for attendees to explore "The D." There's no shortage of things to see and do these days in Detroit, and one credit union CEO wants attendees to know that the city's reputation for crime is a thing of the past.
"I've been an active Detroit supporter my whole life, and certainly my whole credit union career, which started in 1991," said Hank Hubbard, CEO of One Detroit CU. "I've worked in downtown Detroit that whole time and I don't ever remember feeling unsafe…people hear about crime statistics and crime in the central business district—which is where our people will all be—and they've gone down to almost nothing. Not only do we have Detroit Public Safety people around, but many of the larger companies have their own private security people around also. So there's very little crime."
So what should AC&E attendees seek out while visiting the Motor City? Hubbard had plenty of suggestions.
"I would very much encourage people to walk up Woodward and around Campus Martius Park," he said. "There's a lot of exciting stuff going on around there. And there are other pockets of exciting growth like Midtown, which is where you have Shinola and HopCat and Jolly Pumpkin. And the smaller Detroit-based boutiques are awesome."
Roslyn Karamoko, founder and CEO of one of these Detroit-based boutiques, Détroit Is the New Black, saw the same opportunity for growth in the city. Though not originally from Detroit, she quickly saw a town full of young entrepreneurs with a passion for creativity and innovation. With a merchandising background and an eye for design, Karamoko quickly grew her brand from just printed T-shirts to a line of chic and contemporary apparel with a name that accents the city's French history. Karamoko says, "Detroit is internationally recognized, and I wanted to create something that spoke to the city's optimism."
"An Ambience You Couldn't Build Today"
Dean Trudeau, CEO of Public Service CU, also encouraged AC&E guests to see more of the city—and his recommendations begin just steps away from the Renaissance Center doors.
"You've got to do the RiverWalk," he emphasized. "That pathway that GM has put in along the river, it just gives you a sense of the value of the waterfront, and it's not industrial anymore. Looking over at Windsor, it's like two sister cities, and it feels that way when you walk along the water."
He also recommended venturing out and checking out the nightlife. Not only are new restaurants popping up all over the place, he said, but many of them have been able to maintain the old-school charm of the buildings' historic architecture.
"It's got an ambience that you couldn't build today," he said. "It's like what you see in Chicago or other cities."
Detroit credit union CEOs Hank Hubbard and Kathie Trembath share their enthusiasm about all the changes taking place in Detroit.
Kathie Trembath, CEO of Detroit-based Diversified Members CU, said that there's such an exciting variety of nightlife throughout the city that AC&E attendees should find something to their liking close by.
"It's not like you have to travel 20 miles to do some of this stuff," she said, pointing to Greektown and some of the city's jazz and blues clubs. "It's all available. All you have to do is look a little bit."
For those unsure of where to go, Trembath specifically recommended Pegasus and Fishbone's in Greektown and also Joe Muer Seafood.
"They have their new menu and they went back to the old traditional menu items they used to serve back when," she said of Joe Muer.
Tours Departing Soon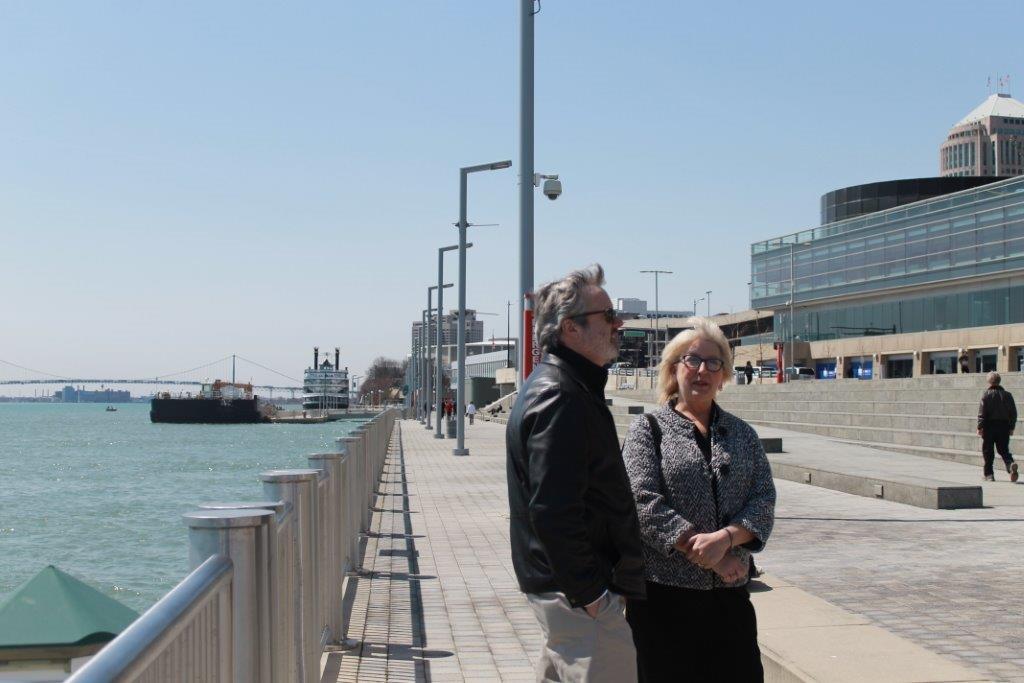 Detroit credit union CEOs Hank Hubbard and Kathie Trembath relaxing along the RiverWalk in downtown Detroit
MCUL will offer attendees a tour of Detroit on Friday, June 10, and Hubbard and Trudeau encouraged visitors to see as much of the city as they can.
Organized tours, said Hubbard, are great for people "who are sort of tentative about coming to Detroit." Once they see the revitalization process that's taken place, he added, "they'll just be blown away."
"For a long time, Detroit basically was what everybody thought it was," said Trudeau. "It rolled up the sidewalks at 6:00 p.m. and it wasn't the safest place to be. But I think it's changing, and I don't know if people outside of Detroit realize how quickly it's changing."
More information on MCUL's Detroit tour is available at ace2016.mcul.org.
This story originally appeared in MCUL's Contact magazine. Jenna Lennon contributed to this article.
Go to main navigation