In Brief...
Fremont High School Students Learn Financial Skills with Gerber FCU and Senator
A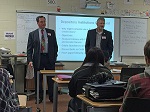 s part of Gerber Federal Credit Union's Annual Financial Literacy Legislative Challenge, students at Fremont High School met with Senator Goeff Hansen and Gerber FCU President/CEO John Buckley during the month of April.
This collaborative event is held each year, and brings together lawmakers, students and financial professionals. It is a unique partnership which builds relationships between Michigan legislators and their constituents while providing students with lifelong financial skills. Buckley and Senator Hansen discussed the importance of financial literacy.
"I enjoy discussing with our students the issues surrounding financial decision-making, economics, advocacy and public policy. Our legislators also enjoy getting in front of the next generation of voters to inform them of the legislative process. We are happy to continue to support these programs," said Buckley.
OMNI CCU Receives Best and Brightest Accolades for Seventh Year

For the seventh year running, OMNI Community Credit Union was recognized as one of West Michigan's Best and Brightest Companies to Work For.
Recognized businesses offer an outstanding working environment and an unflagging commitment to employee satisfaction, which contributes to a stronger community. OMNI CCU received accolades in the Medium Business category.
"Receiving this recognition is affirmation that we're continuing to strike a good balance," said Ted Parsons, OMNI CCU CEO. "While it's certainly important to have successful business, we're only as successful as our employees and our communities enable us to be. We have the best of both–we're very proud of our wonderful staff and the equally wonderful communities we're a part of."
Companies are chosen by an independent research firm that bases its evaluation on several key measures including communication and shared vision, employee education and development, work-life balance, community initiatives, strategic company performance and many others.
AAACU Raises Funds for Oscoda Backpack Program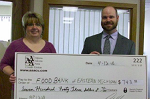 Through the hard work and dedication of its employees and the generosity of its membership, Alpena Alcona Area Credit Union was able to raise nearly $800 in monetary donations for the Oscoda Backpack Program.
The Oscoda Backpack Program provides food to over 800 Oscoda students who otherwise might go without food over the weekend. Volunteers from the program deliver the meals into student's backpacks when the classroom is vacant to ensure the students receiving these meals remain anonymous.
Along with member donations, the Oscoda Branch staff members raised funds through candy bar sales, a lotto ticket raffle and donating $2 to dress down in jeans on Fridays.


MCCU Donates to Gordon Elementary School Through Grant Program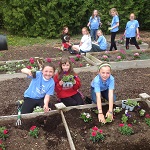 Marshall Community Credit Union recently made a donation of $800 to Gordon Elementary School through their Mini-Grant program. Gordon School Principal, Sandy Kingston, submitted the grant request, stating that the funds would be used to create a school community garden.
"A school garden provides all children K-5 with an area where they can explore their natural world," Principal Kingston said. The schools Girls on the Run participants and the Marshall High School FFA group worked together to beautify the garden area on the north side of the school.
"We are excited to be able to grant requests such as this one," states Andrea Tucker, MCCU's Financial Education Coordinator. "The garden is a wonderful addition to Gordon School and something all of the kids can now enjoy," she continued.
MCCU's mini-grant program is available for teachers, administrators and school staff at any of their partner schools (those that participate in the credit union's CU In School program, an in-school, student run credit union branch). Participating schools include Mar Lee, Marshall Academy, Marshall High School, Marshall Middle School, Walters, Hughes and Gordon Elementary, as well as Wattles Park Elementary. For more information regarding MCCU's Mini-Grant program, or to receive an application, contact Andrea Tucker via email or at 269.781.9885 x203.
MSGCU Awards $62,500 in Scholarships to High School Students and Future Educators
Education is an essential tool that shapes the minds of today's students as they become tomorrow's leaders. A college degree is an important piece of that puzzle and Michigan Schools and Government Credit Union (MSGCU) is proud to annually award scholarships to help students achieve their goals.
This year, MSGCU is pleased to award $62,500 in scholarships to 25 students. Each recipient will receive a one-time award of $2,500 and will be honored at a reception on Thursday, June 2.
"The accomplishments of our recipients are truly impressive," said MSGCU President and CEO Peter Gates. "These students demonstrate high qualities of service, dedication and ambition. We are proud to help them on their educational journey."
Go to main navigation