Millennial Strategy: Cut the Clutter with Personalization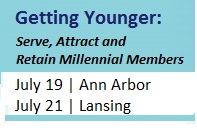 Nearly half of Millennials claim they receive too many irrelevant offers from their credit union, yet at the same time, 75% of them say they don't receive too much information. The lesson? To be most effective in reaching this important demographic, credit unions must send personally relevant information to its members.
This is just one of many tactics that will be shared during workshops offered this summer by MCUL & Affiliates and Canidae Consulting. Jim Kasch, founding CEO at Darden Employees FCU, spent more than five years successfully learning first-hand how to build a credit union that resonates with this unique Millennial generation, how to communicate with them and, most importantly, how to engage in profitable relationships with them.
CEOs, marketing executives, member service leaders and anyone else interested in establishing a Millennial strategy is encouraged to attend the Getting Younger: Attract, Serve and Retain Millennial Members! workshop. The one-day event takes place Tuesday, July 19 at GO Where Meetings Matter in Ann Arbor and Thursday, July 21 at the Think Space in Lansing. Registration is $599 for the first attendee and two or more registrants are just $450 each.
Go to main navigation