How CUNA and Michigan CUs are Educating Members about the Regulatory Burden
Michigan credit unions are preparing to mobilize their members for advocacy around the regulatory burden with the help of a new initiative from CUNA.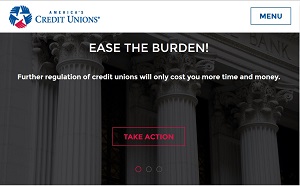 EaseTheBurden.com was launched in early May as part of CUNA's Member Activation Program. The consumer-facing site includes information on the compliance burden credit unions face and how that negatively impacts the service members receive. Along with news and a map detailing how each state is impacted by the compliance burden (based on CUNA's recent regulatory burden study), EaseTheBurden.com also includes a "Take Action" button that sends users to CUNA's Grassroots Action Center where they can send pre-written letters to members of Congress protesting the burden and voicing their support for the credit union movement.
Chrissy Siders, VP of risk management and specialized lending at CP FCU in Jackson, said the credit union's staff has begun discussing how to move forward with introducing the site to members. CP has participated in other MAP initiatives, including data breach-education efforts and had a positive response from the membership.
"I've established what we're calling an advocacy calendar," said Siders. "It's a 52-week calendar where each week there's something we highlight from advocacy, regulation, legislation or grassroots communication to our employees and our members. The MAP program is something we consider advocacy with our members. We try to keep it in the forefront and we encourage our employees on a regular basis to be advocates."
ELGA Credit Union in Burton has also participated in MAP, and while CEO Karen Church said she has not heard much from the membership about it, they consider that a good thing.
"Whenever we don't hear something bad, we figure that's a positive," she said, noting that ELGA officials are considering placing a link on their website to engage members.
While compliance can be a tough topic to get members to understand, Church said that member-ownership status at the credit union gives consumers a greater stake in how the business is run than if they were just ordinary bank customers.
"You've got so many people who are proud to be credit union member-owners and have been members for a long time; I think if we can teach them better how their part is important to the overall success of the credit union and the industry, they're more likely to take the time to respond to something," she said. "If you've got something on your site that they believe is going to help you...I don't think it's out of the question that they would do that."
Information on other MAP initiatives from CUNA is available here and here.
Go to main navigation