TLC CCU Presents a Financial Reality Fair at Madison High School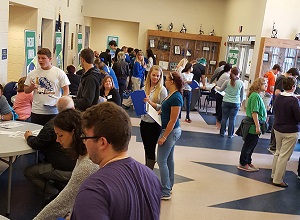 TLC Community Credit Union (TLC CCU) along with volunteers from Midwest Energy Cooperative, Clift Buick GMC Car Dealership, Aeroquip Credit Union, America 1 Credit Union and Michigan Community Credit Union facilitated a financial reality fair at Madison High School. The fun and fast-paced interactive fair introduced students to different aspects of living within their means as preparation for entering college and the job market.

"A majority of young people have no idea how much everyday living costs," Lilly Wolcott, TLC CCU's youth financial education supervisor said. "We asked them to live one month in the 'real world' and pay for all of their expenses while staying within the means of their income. It is their goal to have some money left at the end of the month for savings."

Prior to the event, students researched future careers to choose for the simulation. Based on the chosen career, they were given the entry level monthly income for that career and asked to balance their monthly budget, including basic necessity expenses like housing, food and transportation.

This financial reality fair was made possible with assistance from the Michigan Credit Union Foundation (MCUF). The MCUF provides materials and training free of charge to help credit unions, chapters and groups hold these fun and fast-paced interactive sessions that can make a lasting impact on the financial understanding of teen participants. For more information visit here.
Go to main navigation