Dick Ketcik Honored for His Service to Credit Unions and Community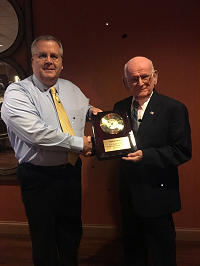 During its annual conference last month, the Michigan Credit Union League's Upper Peninsula Chapter of Credit Unions honored Dick Ketcik as the chapter's Person of the Year.
Ketcik, who is a charter member of the Manistique Federal Credit Union Board of Directors, first served on the board when it was created in 1967. He also served as both the board president and vice president.
In addition to his service to the credit union industry, Ketcik has donated his time to numerous volunteer activities in the Manistique area. These include serving as the president of the American Cancer Society of Schoolcraft County and as the commander of American Legion Post 83.
Ketcik also played a key role the construction of the first Little League field in Manistique.
"People should be recognized for what they do for others," said Chippewa County CU CEO Connie Toensing and co-chair of the UP Annual Conference Committee. "Ketcik's efforts have improved the quality of life for the people in his community and have helped fortify the credit union movement."
More than 560 people from 27 credit unions attended the UP Chapter of Credit Unions' Annual Conference.
Go to main navigation