In Brief...
DMCU Shades of Pink Zoo Walk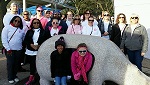 Diversified Members Credit Union (DMCU) employees and family members participated in the 11th annual A Walk at the Zoo event, benefiting the Shades of Pink Foundation supporting breast cancer patients and their families. In total, DMCU employees helped raise $2,500 for the cause.
"It's an amazing feeling to be walking with such a great foundation for an even greater cause," said Kathie Trembath, CEO of DMCU. More than 25 DMCU employees volunteered to participate in the walk, along with numerous friends and family members. Trembath added, "Cancer touches just about everyone at some point in their lives, whether it's a friend or family member. It just shows how important it is that we all continue to raise the level of awareness."
The Shades of Pink Foundation helps raise funds to support breast cancer patients and their families through financial hardship, as too often they may lose their jobs, insurance coverage, and become overwhelmed with various financial obligations. For more information about the Shades of Pink Foundation, visit here.
American 1 Credit Union Awards $15,000 in Scholarships
American 1 Credit Union has awarded 15 high school graduates from southern Michigan with $1,000 scholarships for their commitment to altruism and community service. American 1 CU offered the awards through the annual Community Involvement Scholarship Program.
Each student who applied submitted an essay on the benefits of altruism and how the student has impacted his or her community through their involvement. The scholarships are funded through American 1 CU's Skip-a-Pay program, where credit union members can choose to skip one month's loan payment for $25. Those $25 contributions fund the scholarship program.


Community Choice Credit Union Elects New Chairman
Brian Wilson was elected as chairman of Community Choice Credit Union's board of directors following the credit union's annual meeting on April 21. Prior to this appointment, Wilson served as vice chairman of the board of directors for 11 years and held positions with various committees including the audit and real estate acquisition committees. Wilson has been a member of Community Choice CU since 1977.
"Brian is a well-respected, caring and dependable person," said Rob Bava, president and CEO of Community Choice CU. "The directors have a high regard for him and we trust in his leadership skills." Wilson is known for his advocacy for Community Choice CU stakeholders and brings a high level of commitment and knowledge to this position.
Prior to the election to his first term on the board in 2005, Wilson served on the credit union's loan review committee. Wilson began his career in the public sector while still in high school, and has been employed by the City of Livonia for 37 years. Currently he holds the position of Assistant Superintendent of Public Service for the city. He has a strong background in business and accounting, and is a member of the American Public Works Association.


Gerber Federal Credit Union Visits Local Second Grade Students to Discuss Financial Literacy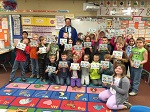 John Buckley, President/CEO of Gerber Federal Credit Union (Gerber FCU), read the Coindexter Jr book The Candy and the Coinbot to second grade students at local schools during the month of April. The popular book introduces children to the fundamental concepts of money management: earning your own money, spending money wisely, saving towards a goal and giving to help others.
To further solidify the message of sound money management, Buckley also presented every student, their teacher and their school library with a copy of the book. Almost 700 books were donated to local schools. These books were donated by Gerber Federal Credit Union with assistance from the Michigan Credit Union Foundation. During his tour, Buckley visited Pathfinder Elementary School in Fremont, Fremont Christian Elementary School, Grant Elementary School, Patricia St. Clair Elementary in Hesperia, Holton Elementary School, Velma Watson Upper Elementary School in Newaygo and White Cloud Elementary.
"The kids were truly thankful for the books and provided very thoughtful lessons from the story. It was a pleasure to read to them and have them react as they did. We look forward to maintaining and expanding this program in the coming years," said John Buckley.
Find out more about Coindexter and his financial education adventure by visiting here. Parents, after your child reads The Candy and the Coinbot, visit here for additional learning tools and helpful conversation topics.


Best Financial Credit Union Raises $4,000 for March of Dimes!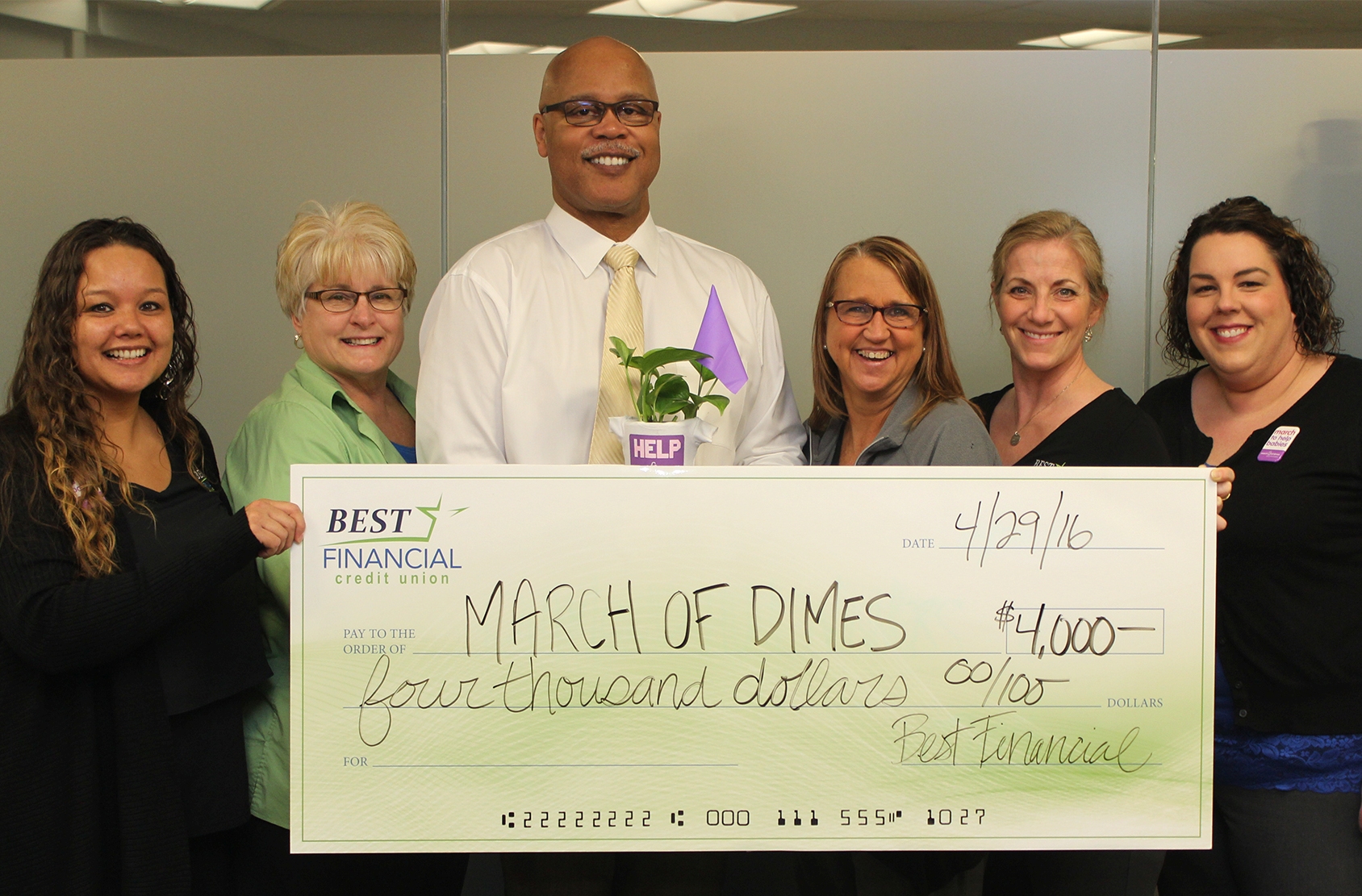 Each spring Best Financial Credit Union chooses an organization for which to fundraise, with the hopes of raising enough to donate at least $1,000. The credit union and its staff exceeded that goal this year. Over a three day period from April 13th through April 15th, the credit union staff was able to raise $4,000.
To make things more interesting, and to foster some friendly competition, the BFCU staff was separated into teams. Both teams had a brainstorming session and came up with unique ideas in order to raise money. The members of Best Financial join in the fun and graciously support the fundraising efforts.
A check for $4,000 was presented to Dr. Dale Nesbary, president of Muskegon Community College and the 2016 event chairperson for the Muskegon March for Babies. The Muskegon event is Saturday, May 7 at Heritage Landing and begins at 9:00 a.m.
All proceeds from this year's fundraising went to the March of Dimes. March of Dimes is an organization that fights the #1 killer of babies–premature birth. March of Dimes supports programs that help moms have healthy, full-term pregnancies as well as funding research to find causes and preventions of premature birth. To find out more details about this organization or how you too can help, visit here.


Diversified Members Credit Union to Provide Free Document Shred Day
Diversified Members Credit Union (DMCU) will be hosting a free document Shred Day at their Detroit main office this Saturday, May 14. The community is invited to bring up to four boxes of personal documents and sensitive information between the hours of 9:00 a.m. and 12:00 p.m. to 1480 E. Jefferson Avenue. DMCU employees will be on site to personally shred documents for members.
Go to main navigation