In Brief...
Submit CU Difference Stories for the Upcoming America's Credit Union Conference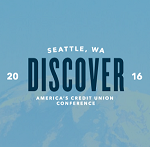 CUNA is excited about another opportunity to showcase the #CUdifference at the upcoming America's Credit Union Conference in Seattle. Similar to last year at ACUC and GAC earlier this year, there will be wall art highlighting the difference credit unions are making every day.
Please share your stories capturing how your credit unions are promoting the credit union difference, creating awareness, fostering service excellence, and/or removing barriers in your community.
Stories need to be submitted here no later than Wednesday, May 4. Be sure to include a logo or photo that is high-resolution (preferred format for images is JPEG or EPS).
Catholic Federal Credit Union Partners with Local Libraries for Money Smart Week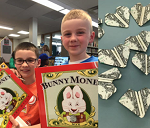 In observation of Money Smart Week, Catholic Federal Credit Union (CFCU) partnered with area libraries to bring fun activities and financial education to the children's programs throughout the last few weeks in April.
During these programs, children listened to stories and participated in "money smart" activities. CFCU organized events including piggy bank decorating, dollar bill origami and candy shop coin matching. Thanks to the Michigan Credit Union League & Affiliates, each child in attendance was able to take home a free copy of the children's book Bunny Money by award-winning author Rosemary Wells.
Catholic Federal Credit Union is a full service financial institution offering loans, savings accounts and checking accounts. The credit union has locations in Bay City, Essexville, Saginaw and Vassar.
Marshall Community Credit Union Holds Prom Promotion at Marshall High School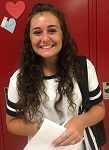 Marshall Community Credit Union recently held a drawing at their Marshall High School Student-Run Branch (SRB) for high school students planning to attend prom. Any MHS Junior or Senior could enter the contest, but students using the SRB and doing a financial transaction earned double entries. The contest ran from March 4-18. Prizes included a $65 gift certificate to Design Studio East for an up-do and makeup application, and a $100 Visa gift card that could be used towards a tuxedo rental.
Two winners were chosen at random. Congratulations to senior Gracen Corcoran and junior Greyson Gillett.
The Marshall Community Credit Union Student-Run Branch is located inside Marshall High School and is open and available to all MHS students, faculty and staff. The MHS SRB is open every Friday in the school cafeteria during both lunches. The SRB is a functioning credit union branch where members are able to make deposits, withdrawals, transfer funds, cash checks, make loan payments and more.


Lake Michigan Credit Union Rated Among Best Performing Credit Unions in Nation by S&P Global Market Intelligence
Lake Michigan Credit Union (LMCU) is pleased to announce that S&P Global Market Intelligence has ranked LMCU second in their survey of best performing credit unions in the nation.
In the analysis, S&P Global Market Intelligence ranked the best performing credit unions using the following five core financial performance metrics: member growth, net charge-offs as a percentage of average loans, efficiency ratio, asset quality and market growth. To qualify for this ranking, a credit union had to report more than $500 million in total assets and a net worth ratio of at least 7% as of Dec. 31, 2015. Based on these two criteria, there were 488 credit unions that qualified for this analysis.
For the full report, click here.
Michigan Business Connection Offers Free Rule 723 Web Presentation
Michigan Business Connection will host a free web presentation for Michigan credit unions on Tuesday, May 10 at 3:30 p.m. to discuss changes to Rule 723.
The final changes for Rule 723 create great opportunities for Credit Unions in business lending. Most of these opportunities begin in 2017, one very important change, relaxation of the requirement for personal recourse from business principals, is effective May 13.
This complimentary web presentation, presented by Bill Beardsley, CEO and Shannon Stchur, SVP of Credit Administration for MBC, will highlight the various forms and levels of recourse used by most lenders, discuss critical risk factors and recommended risk containment and mitigation approaches. If you have questions about the event, contact Kate Fletcher at 734.926.4262 or via email. Or, to sign up for the event click here to register.
Credit Union Welcomes New VP of IT
FreeStar Financial Credit Union (previously Central Macomb Community Credit Union) welcomed Tim Strenk as the Vice President of Information Technology effective April 18. Strenk will oversee the day-to-day operations of the network, VOIP phone system and security of the network.

Strenk has 20 years of experience in network administration and project management. Some of his past experiences include developing business strategies, mitigating risk, budget management, designing and implementing IT infrastructures, and diagnosing and repairing both computer software and hardware.

"Tim has a thorough understanding of networks, firewalls and the overall IT infrastructure; he will be a great asset to not only the credit union but the membership as well," said Drema Isaac, president and CEO. "I am confident that he will contribute to the continued success of our credit union while maintaining a secure environment."
Go to main navigation