Kellogg Community Federal Credit Union's Flint Water Collection a Huge Success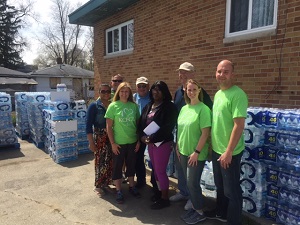 Kellogg Community Federal Credit Union (KCFCU) held a collection to help the Flint community with the ongoing water crisis they are facing. KCFCU called out to members and area residents asking for them to either donate cases of water or money to purchase water at any of their ten branch locations. The requests were answered in a big way.
Using 100% of the proceeds collected, KCFCU was able to purchase and donate more than 20,000 bottles of water. The credit union was also able to purchase 20 jugs of hand sanitizer, 130 packages of baby wipes and 50 containers of disinfectant wipes to donate to a Flint elementary school. On April 19, KCFCU board and team members, along other community partners, traveled to Flint to deliver the water and school supplies.
KCFCU's successful water drive wouldn't have been possible without the participation of many generous community partners, including Battle Creek Pizza Department, Sam's Club, Firekeepers Casino, Big Lots and Harper Creek High School.

"The residents of Flint continue to struggle to meet their basic need for clean water. And, even though we had already donated 7,600 bottles of water, we wanted to do more," stated Tracy Miller, KCFCU's CEO. "So we reached out to the communities we serve, asking for donations. Their generosity was overwhelming. Not only were we able to collect enough to meet our goal of 15,000 bottles of water, but we exceeded it, and were able to deliver over 20,000 bottles of water to Flint residents as well as assist an elementary school that was in need. I'd like to thank all of our members, employees and community residents who donated. We couldn't have done this without you."
Go to main navigation