In Brief...
Vibe Credit Union Celebrates 80th Birthday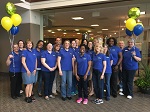 In 1936, swing music was hot, gas was a dime and telephones had wires. At a time when money was tight, 10 ambitious Michigan Bell employees each kicked in $10 to create what has evolved into today's Vibe Credit Union. "That humble beginning, 80 years ago, has brought us to this exciting place. With more than 32,000 members among our eight branches and two eCenters, we deliver cutting-edge technology with the same personal service that was originally expected," said President/CEO Tom Reagan.
It has been 80 years in the making of a truly unique banking experience and, just like all birthdays, the celebration included sharing stories of the past and hopes and dreams for the future. On April 22, Vibe CU's "Celebrate 80" campaign included a Member Appreciation Day. The celebration continues with a search to find Vibe CU's biggest fan, as members are encouraged to share why they love banking with Vibe CU.

See Vibe CU's history come to life by watching the "Celebrate 80" video here.

Community Financial Hosted Presidents' Day Essay Contest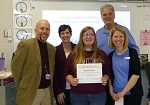 Community Financial Credit Union recently hosted a Presidents' Day essay contest for students in Grades 4-8. Students were asked, "Which US President would you like to have lunch with and why?" Winners received lunch for their classroom with community financial president and CEO Bill Lawton, and a $50 prize. Second and third place essay winners received $25 each.
Mallory Luttrell, from Liberty Middle School in Canton, was the 1st place winner in the Middle School category. She wrote about Teddy Roosevelt in her essay, and was specifically intrigued by his pets and love of the outdoors.

Diversified Members Credit Union Names New COO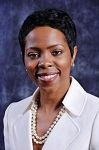 Diversified Members Credit Union (DMCU), a Detroit based credit union serving more than 23,000 members, recently appointed a new Chief Operating Officer (COO). Monique Dunbar, a Detroit native, has more than 17 years of experience.
"I've been very fortunate in my career with the different places it has taken me," said Dunbar, "but it's truly a joy to return to my hometown of Detroit and offer my expertise to an organization so deeply rooted in the community." Dunbar most recently served as the Interim CEO at Credit Union of Atlanta.
With expertise in business functions such as expedited member service, simplified loan administration, continuous learning, staff development and member retention, Dunbar's impact is sure to benefit both DMCU and its membership.

Saginaw Medical Federal Credit Union Awards Scholarships
Saginaw Medical Federal Credit Union (SMFCU) is pleased to announce the recipients of their 2016 Scholarship Awards; Taylor Herring–Delta College, Jacob Hoffman–Freeland High School, Paige Lloyd–Bay City Western High School and Noah Stewart–Swan Valley High School.
A special scholarship was established this year in memory of Missey Kelly, former President and CEO of SMFCU. The recipient of the Missey Kelly Memorial Scholarship was Paige Hammis–Heritage High School.
These students demonstrate a dedication to academics as well as community service that reflects the value, respect and expectation SMFCU has for its scholarship award recipients.

TBACU to Award Classroom Improvement Grant to Birch Street Elementary
On April 18, TBA Credit Union (TBACU) awarded a $950 Classroom Improvement Grant to Birch Street Elementary in Kalkaska. Lisa Sutton, a first grade teacher at Birch Street Elementary, applied for a Classroom Improvement Grant for teaching supplies to give students a hands-on approach to geometry math standards.
This is an area the district wants to improve for their students. Sutton remarked, "We have such eager learners in Kalkaska, and these manipulatives will help them to learn through inquiry, problem solving and exploration."
Educators within the five county area (Antrim, Benzie, Grand Traverse, Kalkaska and Leelanau) are eligible to apply for TBACU's Classroom Improvement Grants. Those interested in applying should visit tbacu.com where they can see past grant winners and review the application process.

Marshall Community Credit Union Celebrates Money Smart Week
We all could use a little help when it comes to managing our finances. Money doesn't come with instructions, and that's why banks, businesses, schools, libraries and lots of others are joining together to help support financial education during Money Smart Week, Apr. 23-30.
Hundreds of free classes will be offered throughout the country for all ages and walks of life during Money Smart Week. Learn about credit, the home-buying process, estate planning, how to avoid being a victim of identity theft and much more.
Marshall Community Credit Union is hosting story time at the Marshall District Library on Tuesday, April 26 at 10:30 a.m. and at 1:00 p.m. for preschool-age kids. Come join us while we read Bunny Money by Rosemary Wells. Each child will be able to take their own copy of the book home. No registration necessary for these events.

AAC Credit Union and La Macchia Group Hold Open House for New Building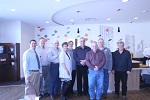 On April 14, AAC Credit Union (AACCU) held a ribbon cutting ceremony to welcome their members and the community to visit their new main office and check out their new, award-winning brand. Partnering with La Macchia Group, a design-build firm based in Milwaukee, Wisconsin, they were able to design and build their new main office focusing on future growth of the credit union and design a space optimized for their new brand.
Many members of the credit union and community, including members of the board of directors and other credit union affiliates, attended the grand opening commenting on the great location and the new brand of AAC Credit Union.
"Working with La Macchia Group has been a pleasure. We are so excited about our new main office and brand. We thank everyone for coming to help us celebrate this new chapter in our AAC story," commented Brian Turmell, CEO of AACCU.
AACCU's history is tied to the local furniture industry, which is very prominent in Western Michigan, and their new building incorporates this heritage by featuring locally made furniture.
Michigan-made Herman Miller furniture was incorporated showcasing AACCU's ties back to the Western Michigan furniture industry. Local subcontractors were used to build the new building under the direction of La Macchia Group thus keeping consistent with sourcing through community talent. The location of the new facility was acquired to maximize visibility, accessibility and a prime area near their target demographic–a strategic decision made by La Macchia Group through their in depth planning study. New technology was implemented in the lobby including custom teller pods instead of the traditional teller line featuring cash dispensary machines.
Go to main navigation