CUs Work Together for Teen Financial Education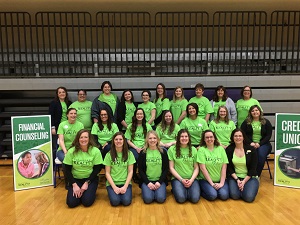 Five Upper Peninsula credit unions got together once again to host a cooperative Financial Reality Fair on April 12 for 90 students in the 12th grade at Gladstone High School. Peninsula Federal Credit Union, Great Lakes First Federal Credit Union, Northern United Federal Credit Union, Delta County Credit Union and U.P. State Credit Union first worked together last November to host fairs for four area schools consisting of more than 500 students.
The schools, students and the credit union facilitators enjoyed the financial reality fairs so much they expressed interest in participating and hosting more down the road. Several other high schools in the Upper Peninsula have also participated in fairs hosted by Limestone Credit Union, TruNorth Credit Union and Soo Co-op Credit Union.
The Michigan Credit Union Foundation (MCUF) provides materials and training to help credit unions, chapters and groups hold these fun and fast-paced interactive sessions that can make a lasting impact on the financial understanding of teen participants. This active financial learning experience simulates one month of independent adult living where high school students make hard choices to obtain the goods and services they need and struggle to balance their budgets with the assistance of credit union services.

Click here to learn more.
Go to main navigation