UP Compliance Update Heads to Marquette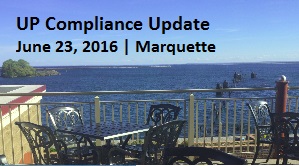 Busy credit union employees need information and resources to manage a myriad of critical compliance issues, which makes the MCUL & Affiliates 2016 UP Compliance Update a great opportunity to remain current with ever-changing regulatory topics.
Sarah Stevenson, Barb Boyd and Glory LeDu from MCUL and CU Solutions Group will present the training on June 23 at the Hampton Inn Marquette/Waterfront. Topics to be included are:
With So Much Change, Be Sure to Stay Up to Date
Fair Credit Reporting Act Overview
Internal Fraud
Cybersecurity
Compliance Helpline Top Issues and FAQs
The educational investment to attend is just $199 per person, including continental breakfast, lunch and breaks. Those needing lodging may contact the hotel directly at (906) 273-1480.
Go to main navigation