At MCUL's GAC, Advocacy Tips and a Legislative Update
Jordan Kingdon, director of government affairs at the Michigan Credit Union League, had a reminder for credit unions attending the league's annual Government Affairs Conference in Lansing: When speaking with legislators, you are the experts.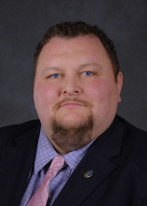 Lawmakers—even those on important finance and banking committees, noted Kingdon—come from a variety of backgrounds and may not have much experience with financial services.
"My advice is to keep it simple," he said. "They appreciate that and it helps us achieve what we want to achieve." He offered data breaches as an example of how credit unions can be most effective by explaining to lawmakers how breaches impact members and the credit union.
"If you can personalize it, share numbers with them—how many cards had to be reissued, how much money is involved in supporting a debit card program—it's education." And when those issues come before lawmakers as bills come up for a vote, then they have a better understanding of how CUs are impacted.
Kingdon's advice was followed by a legislative issues update, which touched on a few of the league's current legislative priorities.
Along with MCUL's efforts to update the Michigan Credit Union Act—which could clear the Senate as soon as next week, he said—the league is also deeply vested in building a coalition to stop the expansion of payday lending in Michigan.
"We're not asking for payday lenders to go away," he said. "We understand that there's a place for them and Michigan allows them to be here. But them asking for more authority than they already have is not acceptable, especially at a time when the federal government and the CFPB are going after them because they believe they're offering products in an abusive fashion."
He encouraged credit union advocates to remind policymakers of the detrimental impact payday lending has on their communities and how it impacts members' lives, while also letting legislators know that many credit unions offer low-cost payday loan alternatives.
"When we tell our story in the payday lending scope, it's important to make lawmakers understand that we operate within a significantly different regulatory structure than [payday lenders] do," Kingdon said during a Q&A that wrapped up his session. Credit unions, he added, can offer a similar product to help members while keeping "the longer financial interests of these people in mind. It's not about making $70 [in interest, as some payday lenders do]. It's about putting them on a sustainable path to be financially free with a budget they can live with."
Over the coming months, he added, MCUL will continue to build a coalition to fight payday lending expansion. If credit unions know of local groups they serve that want to join that coalition, Kingdon said, they are encouraged to contact the league's Government Affairs division.
"The broader we can make this group, the stronger our effort will be," he said.
More GAC coverage is available at mcul.org, including a look at why credit unions believe in the importance of advocacy, a video interview with House Financial Services Committee Chairman Tony Forlini and more.
Go to main navigation